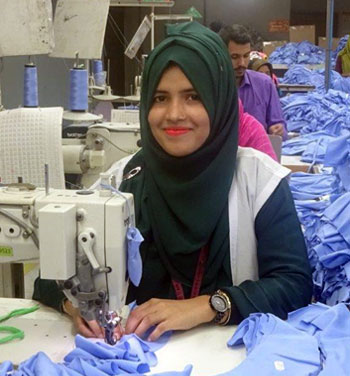 Rabeya Khatun is a 22 years old woman who has been working here at Flamingo Fashion Ltd. for the last 4 years. She is from Sherpur.
Rabeya had to come to join garments meanwhile her studies. At that time, she was only 17 or 18, a student in HSC first year when she joined this factory. She had to stop her studies at that level because of poverty which is a very common story for garment workers.
Although she has elder brothers and her father was still capable of working, she had to join the workforce at a very early age leaving her studies and all her dreams behind. But after a long gap, she did enroll in HSC from Bangladesh Open University.
Rabeya is a peer educator. She learned all the things from training and shared with us, "Training is always an opportunity for learning new things for me. And as a garment worker, I get a very limited scope to learn things that are not directly related to my work. essentials training was that kind of opportunity for me to explore new things"
Rabeya got married two years ago and her husband also works as a garment worker. So, both of them have to put up with so much stress and work pressure. Moreover, they have to do their family planning, and savings for a secure future and think about their families as well.
So, it is normal that they cannot always maintain very polite gestures to each other. And here, according to Rabeya, she got the major benefits of the training. She now does not immediately talk to her husband if she does not feel very well or is angry with him.
Similarly, if she finds out her husband is stressed or angry, she does not try to communicate rather she prefers him to take his time. She said, "These practices of avoiding quarrels and reliving stress such as breathing exercises, physical exercises,  sharing with others, spending time with favorite things and hobbies helped us to maintain a very healthy mutual understanding and it works in  conflict resolution in the workplace as well."
Moreover, she talked about the budget as well as she found it very much helpful for them. They started saving for new financial goals and as they want to have a baby in near future, they now know how much effective it is to do to budget to save more.
Rabeya also shares her experiences of outreach with her nonpeer coworkers who also found it very helpful.
Name: Rabeya Khatun
Section: Sewing
Designation: Operator
ID: 701656