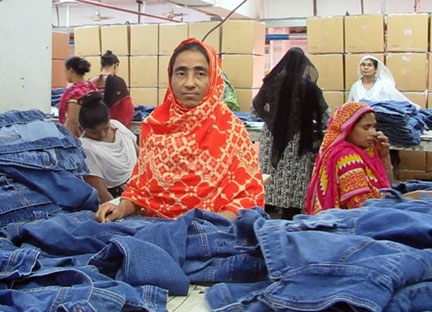 Nargis Sultana, a 34-year-old peer educator of HERfinance Project in Cordial Design Limited has been working in the Garments Sector for the last 16 years. It has already been 10 years since she joined in this factory. She is divorced having one and only son as her family. She is from Bagerhat district and she got the divorce back in 2003. Basically, she decided to join garment factory to raise her child and bear the expenses herself. She is quite successful and her son is now doing his graduation in Marketing Department of Titumir College, Dhaka.
Nargis has received her salary through the digital payment system (Rocket) four times and she is fond of the fact that hand cash is spent faster than money in Mobile Money Account.
She has received all the trainings and she believes that these trainings are really helpful for anyone who wants to have a better life. The sessions have helped her to be more specific regarding her financial goals and the importance of savings to achieve them.
All she wants is to see her son being educated and happy. She also wants to make a house of her own. She has been more determined to fulfill her dreams after receiving the training. She has started making proper budget plans and managing expenses accordingly. On the other hand, she is worried about how uneducated women would cash out their salaries from ATM. But she is also hopeful that they will learn it with time.
Name of the Worker: Nargis Sultana
Section: Finishing (Unit 2)
Identification Number: 262