The 58th sessions of the Subsidiary Body for Scientific and Technological Advice and the Subsidiary Body for Implementation (SB 58) of the United Nations Framework Convention on Climate Change (UNFCCC) held at the World Conference Center Bonn (WCCB) in Bonn, Germany, from 5 to 15 June 2023.
Mohammad Shahjahan, Director (KM4D) and Focal Person of Climate Change and Displacement Issues of YPSA participated in the conference of UNFCCC and share the YPSA's  lessons and experiences that were learned and gathered through working on climate justice-related projects.
In the conference, Mirza Shawkat Ali, Director (Climate Change and International Convention) of the Department of Environment under the Ministry of Environment, Forest and Climate Change of Bangladesh Government and Nakul Sharma from Climate Action Network South Asia (CANSA) was the panel speakers in the event of the conference. The event was moderated by Ms. Avantika Goswami, Program Manager of  the Centre for Science and Environment, India.
Building on the mandates that emerged from COP 27 in Egypt last year, the conference host a large number of mandated events and continue discussions on issues of critical importance, such as the global stocktake, global goal on adaptation, just transition, loss and damage and the mitigation work programme. The conference expected to make progress on these and other important issues and prepare draft decisions for adoption at COP 28 / CMP 18 / CMA 5 in the UAE in December 2023.
With the joint initiative of YPSA (Young Power in Social Action), Center for Participatory Research and Development (CPRD), Shariatpur Development Society (SDS), Climate Action Network, South Asia (CANSA), there was a side event " Human Rights at Risk due to Climate Change Trigger" under the theme of "Adaptation, including Loss and Damage" on 13th June 2023.
In this event, Mr. Mirza Shawkat Ali, Director (Climate Change and Int'l Convention) Department of Environment, Government of Bangladesh Government said that Loss and damage is being discussed at a national and international level at the UNFCCC. We feel the urgency of developing a loss and damage national framework where we can assess the damages that occurs post disaster. We can use the Climate change trust fund to assess the resources and develop a framework and address this change at an international level.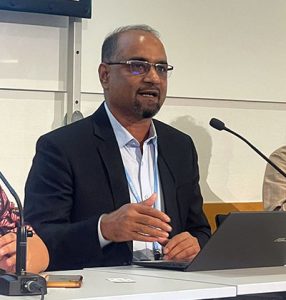 Mohammad Shahjahan presented the research finding of YPSA Approaches in addressing Rights and Needs of Displaced People. The title of his presentation was 'Climate Forced Displacement: Need Rights-based Solutions to this Problem". Mr. Shahjahan stated in his presentation that climate displaced person suffering violations of human rights in different way after loss their housing, land and property due to climate change induced natural disasters. Climate change threatens the effective enjoyment of a series of human rights.Climate Displaced persons required comprehensive human rights under the obligation of the United Nations High Commissioner for Human Rights and Bangladesh Government constitution.
In the presentation, he mentioned that YPSA working for capacity building of climate forced displaced people, community Team and Youth Forum for claiming their rights and alternative livelihood skills; Advocacy initiative and campaign program with the relevant stakeholders for rights-based solutions to the climate forced displacement and lastly Repairmentof Loss and Damage and for durable solutions to the displacement.
During his speech, Mohammad Shahjahan reiterated some recommendations such as Climate forced displacement and migration issues should be treated as separate agenda items under UNFCCC, There should have a legal framework at the international level under UNFCCC to deal climate forced displacement from a human rights perspective, State government should also establish rights based legal framework to deal the forced displacement as part of their willingness  and considering the reality of cross border migration, there should have a universal framework for facilitating migration and resettlement under UNFCCC.