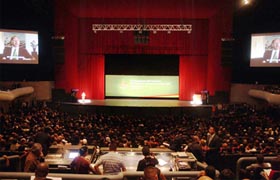 The XVII International AIDS Conference ended in the Mexican capital after five days of spirited participation involving an estimated 22,000 people engaged in the global response to AIDS.
Leaders, policymakers, academics, scientists and activists from around the world descended on Mexico City from 3-8 August 2008 to assess progress in the AIDS response and to identify future priorities in scaling up global efforts to stop the HIV epidemic.
YPSA's Chief Executive Md. Arifur Rahman and Youth representatives Mr.Dibakor and Ms.Shifat joined the conference at Mexico City and presented YPSA's programmatic learning and experiences on HIVAIDS prevention , Sexual Reproductive Health , Adolescents Reproductive health related issues to the International audience.