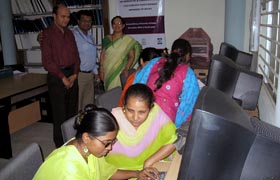 With a view to introducing Information Communication Technology (ICT) to the Visually Impaired student and staff in University of Dhaka a three month long training programme has been organized at Resource Centre of Central Library, Dhaka University from 2nd November 2008. The training programme has been initiated by Sightsavers International a UK based International organization along with Dhaka University Central Library. The training programme has been initiated by Sightsavers International a UK based International organization along with Dhaka University Central Library. The training was conducted by Sightsaver's partner YPSA. YPSA has been working for the Visually Impaired persons for the since long with a good reputation in nationally and internationally. Due to the continuous working in ICT section, YPSA has become expert on ICT promotion for visually impaired person.. A total of 36 students from different department (and 4 staff of Central Library have participated in the programme out of which 20 are male and 16 are female.
Information and communication technology (ICT) has become, within a very short time, one of the basic building blocks of modern society. Because, its play an important role for economic and social development. The people of Bangladesh are now getting the benefits of the ICT for their day to day life. But still, we are far behind in the high way of ICT. Especially visually impaired and the people living in the village are deprived of benefits of ICT.
This training programme is one of the major initiatives of ICT activities in our country. The main objective of this training programme is to empower Visually Impaired Student through ICT as well as encouraging them to fight against the forth coming challenging in future. Now a days ICT becomes one of the best solutions to empowering the VI people. Due to unavailability of source and resource, most of the students are deprived of getting the benefits of ICT.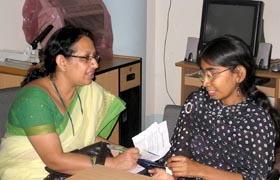 In order to make the training programme a success, YPSA has provided with internationally recognized trainer (Namely Mr. Vashkar Vattacharya trained from Japan, Thailand and India, Md. Rashed Chowdhury, Trained from Japan, Mr. Madob, Ex-trainee of YPSA IRCD and Henry Hebol Roy) training manual and software as well as other facilities. All VI students are divided into three batches in equal number so that the students can get proper training and can have sufficient time for practice. The main component of this programme is to acquaint VI students to Computer Screen reading software, speech synthesizers, self-voicing software, using Microsoft Word, Excel, PowerPoint with JAWS (Job Access with Speech), using DAISY (Digital Accessible Information System) Talking Book, Visually impairment friendly Electronic Books, Novels, Stories and different Policy and Legislations of Bangladesh. The training is conducted in six days per week from 2:00 PM to 8:00 PM considering the benefits of the students.
It is to be mentioned that Sightsavers International is working significantly to empowering the VI people in Bangladesh for long time. In order to establish a Resource Centre in Central Library of University of Dhaka, Sightsavers has taken several steps for the last few years. At last in 2007, their dream has become reality which is now equipped with computers with necessary software, Plextalk (DAISY Book Reader), Perkins Brailler, Braille Printer, Braille Display and internet facility. With a view to help the VI student for study and operating computer, the authority of Central Library recruited two disable personnel.
This training programme can be the turning stage of the students if they can practice more and imply in their daily life. We expect that more people and organizations will come forward to work for the Visually Impaired persons in our country through which we can go ahead as a developed country.