Leadership training held in BrammanBaria and Chandpur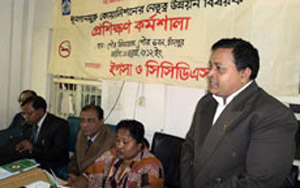 The Mayor of BrammanBaria Pouroshova committed to make smoke free environment by declaring smoke free pouroshova. The  mayor was saying this in a training session, for the members of smoke free coalition, on 17th January  2012 in the Pouroshova auditorium. The mayor, Mr. Md. Helal Uddin was speaking as the chief guest of the session while several councilors, representatives from civil society, media, and community based organizations,  govt. offices was participating in the training.
The participants agreed to work together to keep their pouroshova area free from all sort of tobacco use. They also asked to raise the issue in the monthly meeting of the mayor with councilors while the councilors urged the mayor to ban tobacco advertisements, action to stop selling cigarettes in public places, fixing smoke free singes, putting smoke free messages in rickshaw plates, holding tax or different pouroshova bills, doing some smoke free campaign and the mayor responded very positively.
The civil surgeon Mr. Md. Sarfaraj Khan and Upazilla vice-chairman were also present in the meeting.
Besides, another leadership training was held on 10th January 2012 at the conference hall in Chandpur pouroshova. The Civil Surgeon, Dr. Abdus Sattar Miah, has inaugurated the training session and stressed on the awareness of the harmfulness of tobacco use. Besides, The Secretary (Administrative head) of the pouroshova confirmed putting smoke free message in 22000 holding tax bills, 6000 rickshaw license plates and 5000 Water supply bills from pouroshova. The training was opened  by  the Civil surgeon of the pouroshova and the participants were different representatives of different government bodies, several councilors, journalists, lawyers , religious leaders, business leaders of Chandpur. The Participants stressed on doing mobile courts in different public places,  awareness programs, involving public representatives in the awareness campaigns, printing smoke free leaflets, wall writings etc.
The Program Officers of YPSA , Mr. Muhammed Ali Shahin and Mr. Nazmul Haider has spoke in the sessions as resource persons. And the trainings were organized and facilitated by YPSA in cooperation with a local ngo CCDS, with the support of Campaign for Tobacco Free Kids (CTFK).