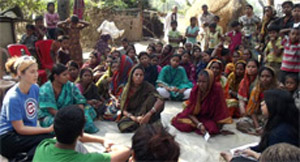 YPSA hosted a group of 19 students as the part of 5 days Service learning Project by America based organization World Savvy in partnership with Service for Professional Education and Enterprise Development (SPEED) and Scholestica. Climate change is a buzz words around the world, it quires a coordinated efforts from everyone around the world. Bangladesh is one of the worst effected countries.
Bangladeshi people from coastal areas experiencing devastating impact of climate change. Currently unpredictable weather condition, saline water intrusion, cyclones causing problems on cultivation and livelihood our masses. Poor families are passing through grave condition, people are losing their home due to land erosion, and crop cultivation reduced due to saline water intrusion and infrequent rainfall. These young students spent 3rd January 2012 – 6th January 2012 at Cox's Bazar. On 3rd and 4th Jan they spent most of their days interacting with the people of Choffal Dhandi village located by the by the Bay of Bengal and Banhk Khali river.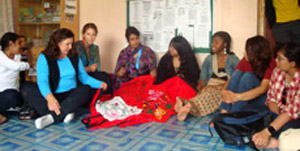 Through this exchange this young students tried to gather an idea on the impact of climate change and disaster in this part of our county and the world. They spent 2 days with the community people and tried to get in to different facts and problems of the community people. One of the objectives they came up through their activities is that they will be the voice of this hard to reach communities. The community people take them cordially and shared many stories with them. Some stories make them uncomfortable and to think twice on different socio-economic issues. They got the chance to know their problem of this poor coastal communities.
On 5th Jan 2012, students planed to present their findings to a large number of audiences which includes senior district officials and civil society representative. Main topic of this presentations were,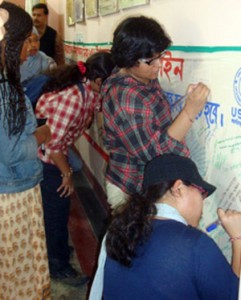 1. Development of Health Care Systems In Rural Areas
2. Education for the rural communities,
3. Water and Sanitation in Rural Communities.
It was great sharing for them. Because these students got chance to advocate for these unheard communities and their problems. They interacted with senior officials representing different departments of Cox's Bazar district and also public representative of Choffaldandi village.
On 6th Jan 2012 they visited YPSA – Shanto Niloy and interacted with human traffic survivors.