"Chittagong City Corporation will be the pioneer on Smoke free environment and I promise to continue this effort until we have a smoke free Chittagong" said honorable Mayor of Chittagong City Corporation in a round-table meeting titled "Tobacco Control in Bangladesh: Chittagong Experiences" held at the conference hall of CCC on 10th January 2013, which was organized by YPSA and Chittagong City Corporation (CCC) and supported by Campaign for Tobacco Free Kids (CTFK).
The Mayor Mr. Mahammad Manjur Alam was addressing as the Chief guest while the Mayor,Mr. Harunur Rashid, of Noakhali  Pouroshova was attending the meeting as a special guest along with other panel mayors from different other Pouroshova of Chittagong division.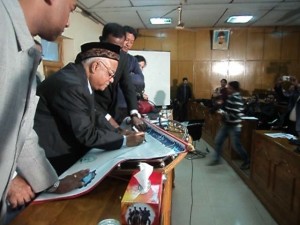 The meeting was also addressed by several other counciilors of CCC. The meeting was presided over by Mr. M. Nasirul Haq, News editor of daily Suprobhat Bangladesh and addressed by Country Representative of CTFK Mr. Taifur Rahman, Panel Mayor-1 (CCC) Mr. Mohammed Hossain, Panel Mayor -3 (CCC) Mr. Hasan Mahmud Hasni, Councilor (CCC) Mr. Gias Uddin Khan , Councilor (CCC) Shaheda Kashem Shati, Panel mayor (Khagrachori) Mr. Shah Alam, Panel Mayor (B.Baria) Ms. Nilufar Yasmin, Panel Mayor (Bandarban) Mr. Dilip Barua, Councilor (Comilla) Johir Uddin Khan Jhompy.
The welcome speech was delivered by Mr. Palash Chy, Director(Finance), YPSA and the key note paper was presented by Ms. Nasim Banu, Program Coordinator, Smoke Free Project, YPSA , while the meeting was moderated by Muhammed Ali Shahin, Program Officer, Smoke Free project, YPSA.