YPSA warmly welcomed newly joined Country Director Mr. Michito UCHIMOTO and said farewell to leaving Country Director Ms. Yukiko Fujisaki of Shapla Neer, Bangladesh Office in the 3rd quarterly meeting of 2nd year under Safer Life of Girl Domestic Worker (SLGDW) Project held on 30th January, 2014 at the YPSA Head Office. 
A.F.M. Saiful Islam, Program Coordinator, Md. Ruhul Amin, Accounts Officer from Shapla Neer and Md. Arifur Rahman, Chief Executive, Ms. Nasim Banu Shyamoli, Program Coordinator, Md. Gazi Mainuddin, HRM & D Officer, Ms. Rokasana Begum, Manager (Finance & Risk Management) from YPSA were also present in the program. Both Country Directors have visited YPSA Anandalok center at Bakalia and Mehedibag after the meeting.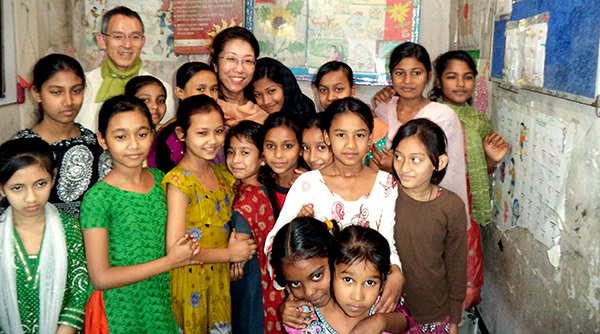 YPSA has been implementing the Safer Life of Girl Domestic Worker (SLGDW) Project since June, 2010 to reduce number of girl domestic workers below 12 years old working in 2 catchments area of Bakalia and Mehedibag under Chittagong City Corporation area.  YPSA has established two centers namely Anandalok in Bakalia and Mehedibag area to increase the level of confidence of GDWs, to make aware employers towards the responsibilities of GDWs and convince the part time GDW's parents to enroll the GDW's in the govt. primary schools and NGO led Schools.