A discussion meeting in association with Municipal Association of Bangladesh (MAB) was held on 1st March, 2014 in Khagrachari Pouroshova. In the meeting, Alhaj A.K.M Mozammel Haque, Minister of Liberation War Affairs, Bangladesh and Advisor of MAB was participating as chief guest and the meeting was presided over by Alhaj Mohammed Abdul Baten, Acting President of MAB and Mayor of Bera Pouroshova, Pabna.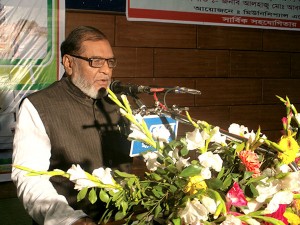 Besides, Mr. Kujendra Lal Tripura, Member of Parliament of Khagrachari district, Mr. Md. Masud Karim, District Commissioner of Khagrachari, Mr. Shekh Md. Mizanur Rahman, Police Super of Khagrachari, Advocate Azmat Ullah Khan, Advisor of MAB, Mr. Shahmim Al Raji, Secretary of MAB & Mayor of Singra Pouroshova and Mr. Rafikul Alam, Mayor of Khagrachari were participating as special guests in the meeting.
In the meeting Nasim Banu Shyamali, Team Leader of Smoke Free Project has given a power point presentation on smoke free guideline of local government, role of MAB to institutionalize the smoke free guideline across the country and some recommendations to endorse the smoke free guideline and implement tobacco control law.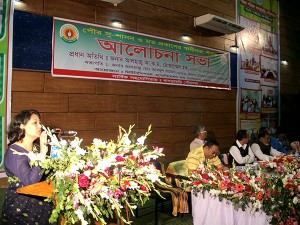 At the end of the program, YPSA along with the Mayor of Khagrachari Pouroshova has given a memorandum to Minister of Liberation War Affairs and Adviser of MAB for taking initiatives to ensure smoke free local government by endorsing smoke free guideline for all municipalities across the country and also raise voice in the parliament for increasing tobacco tax in the upcoming national budget.
Around 800 audiences from MAB (Mayors of Pouroshova), Government officials, journalists, councilors, teachers, civil society were presented in the meeting. In the meeting, Nasim Banu, Mohammed Ali Shahin, Omer Shahed, Jasim Uddin and S. M. Ziaul Haque were presented on behalf of YPSA.