A high official team from USAID visited YPSA-Leadership Development Program at Sitakund and Mirsarai Upazila from 6 to 8 July, 2015. The USAID team comprised of  Ms. Sherina Tabassum, USAID Governance Advisour, Kazi Tahmina Haque, USAID Financial Analyst; Mutaher M. Hossain, USAID (OAA).
Md. Arifur Rahman, Chief Executive of YPSA welcomed them at the YPSA-HRDC Campus, Sitakund on July 5. Visitors discussed with youth leaders of Sitakund upazila for sharing their experiences and different activities after receiving the training on Appreciative Youth Community Mobilization, Youth Actions and Advocacy, Youth Informed Citizenship and Leadership Communication skills during the first phase of the project.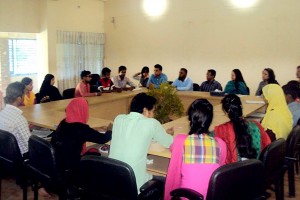 Youth leaders told that their behavior and attitude had changed, employment opportunities and social responsibilities had increased and peoples completely changed their views after receiving the training provided by Leadership Development Program of YPSA.
USAID and Counterpart International team then visited Muradpur Union of Sitakund and discussed with Community Leaders about their experiences and best practice after receiving LDP training. Community leaders said that they had participated 9 days training on Appreciative Inquiry Participatory Community Appraisal, Community Development Issues and Initiatives and Democracy and good governance issues.  After the discussion they observed the Shekh Ali Hazi Road construction where major role contributed by YPSA-LDP Youth and Community leaders.
USAID team observed the training session of Appreciative Community Leadership Training at Wahedpur and Youth Leadership Training at Mayani Union on 7th July. Md. Mahabubur Rahman, Director (Social Development Program) and Syed Assraf Ullah, Project Coordinator of YPSA welcome them in the training session. They talked with training participants of community and youth leadership in the training session.
Mr. Salauddin Selim, Chairman of Wahedpur Union Parishad discussed with them about the communities of Wahedpur Union and expressed his acknowledgement. While visiting Youth leadership training in Mayani Union, Mr. Kabir Ahmed Nijami, Chairman of Mayani UP has given them warm reception.
Sardar Arif Uddin, Director ( Program), Counterpart International ; MehenazMorshed, Program Officer, Counterpart International; Md. Arifur Rahman, Chief Executive, YPSA and Md. Mahabubur Rahman, Director (Social Development Program) were present with the USAID team.