The leading social development organisation of Chittagong, YPSA and Dhaka based organisation, BCCP (Bangladesh Center for Communication Program) jointly organized a symposium on Global Tobacco Control titled as "Learning from the Experts: A Course for Healthcare Professionals" on 11th October'15, in Southern Medical College and Hospital, Chittagong. The event has described a free, online training program called "Global Tobacco Control: Learning from the Experts." to the participants of the symposium. The Institute for Global Tobacco Control at the Johns Hopkins Bloomberg School of Public Health (JHSPH-IGTC), a partner in the Bloomberg Initiative to Reduce Tobacco Use, introduced this web-based training program.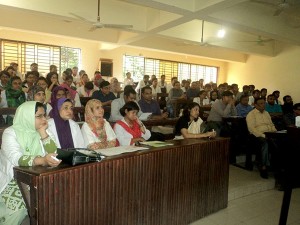 More than 100 participants including doctors and other healthcare professionals and medical students have been participated in the symposium. The principal, of the Southern Medical College and Hospital, Dr. Hassanuzzaman Bhuiyan has participated in the event as the Chief guest while Prof. Dr. Sultan Ul Alam, Prof. Dr. Jhulan Das Sharma, Dr. Subrata Das (Asso. Prof.), Dr. Mehrunnessa (Asso. Prof.) spoke as panel speakers. And the major speakers of the event were Dr. Nazrul Haque, Team Leader, JHSPH-BCCP Tobacco Control Project, Mohammad Shamimul Islam, Deputy Team Leader, BCCP Tobacco Control Project, Ms. Nasim Banu, Teal Leader, YPSA Smoker Free project, Dr. Moinul Ahsan, Medical Officer, Chittagong General Hospital.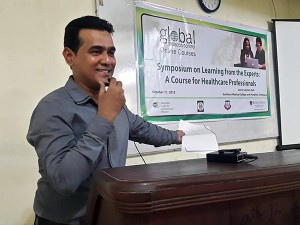 Dr. Nazrul Haque spoke on the roles of health care professionals for tobacco control issue in Bangladesh. And the Mr. Shamim demonstrated the registration process of the web-based training program for the health care professionals. The event was moderated by Muhammed Ali Shahin, Program Manager, YPSA –Smoke free project.
The Principal Dr. Hassanuzzaman gave the final remarks addressing the need of tobacco control in Bangladesh. He also emphasized on the duties of health service professionals to act as the major advocate for tobacco control. He committed to help and actively involve with the tobacco control initiatives of different organizations to ensure a smoke free and tobacco free environment.
Dr. Nazrul Hazque mentioned that on-line course is designed for busy healthcare professionals as a time-saving alternative for those who otherwise would not be able to complete the longer tobacco control training. The course is free and open to anyone who is already working in a healthcare profession and is interested in learning more about tobacco control. The course in available in this URL www.globaltobaccocontrol.org.