Bangladesh has become a lower middle income country. We will elevate the status into middle income country soon and will become developed county within 2041 in keeping with vision 2041. World leaders have seen our achievement of MDG surprisingly. It is time to attain Sustainable Development Goal (SDG). Participation of all level of people should be ensured for broader development of the country. People with disability should be brought into mainstream development. Immense development is never possible of a country without participation of persons with disability. 10-15% of country's total population is PWDs. This large population must be included with the development from planning to implementation. We should be more aware of their rights and dignity.
Speakers said in seminar titled "Status of Disability in Chittagong Division: Addressing SDGs: Way forward to Achieve the Targets" held at Chittagong Press Club on 18 November, 2014 organized by YPSA with the support of ADD International.
Additional Divisional Commissioner Shankar Ranjan Shaha was present as chief guest while Additional Deputy Commissioner of Chittagong (ADC- Revenue) Md. Ilias Hossain presided over the meeting.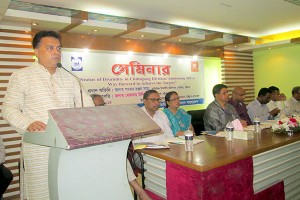 YPSA's chief executive Md. Arifur Rahman presented the keynote paper in the seminar. Welcome speech was given by Vashkar Bhattacharjee, Program Manager of YPSA.
Country director of ADD International Shafiqul Islam, Panel mayor of Chittagong City Corporation Chowdhury Hasan Mahmud Hasni, Deputy director of District Social Welfare Bandana Das, President of Nishpap Autism Foundation M. Nasirul Hoq were present as special guest in the seminar.
Representatives from deferent print and electronic media, civil society, disability organizations, development activists, teachers, students and NGOs from different districts of Chittagong division participated in the seminar.