A divisional Consultation on "Implementation on Tobacco control Law in Chittagong Division" with Divisional Commissioner and all 11 Deputy Commissioners (DCs) of Chittagong Division, was held on March 29, 2016 at the auditorium hall of Chittagong Circuit House. The consultation was organized by Chittagong Divisional Commissioner Office, initiated by YPSA and supported by Campaign for Tobacco Free Kids. The Consultation was presided over by Mr. Mesbah Uddin, Deputy Commissioner (DC) of Chittagong district while Mr. Ruhul Amin, Divisional Commissioner of Chittagong division was the chief guest. 
11 Deputy Commissioners (DC) of eleven districts of Chittagong division, Additional Divisional Commissioners, Director-local government department, Officials of local government (Zilla Parisad) and other government officials participated in the meeting. The key note paper was presented by Ms. Nasim Banu Shyamali, Team Leader, Smoke Free project, YPSA, and Mr. Anowarul Halim, Focal Point Office of Tobacco control of Chittagong Division has presented the coordination mechanism for implementing Tobacco control law.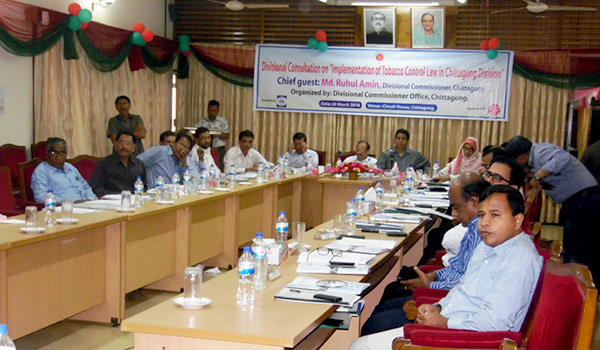 The chief guest, Mr. Ruhul Amin, Divisional Commissioner of Chittagong division, provided some directions to all DC for implementing the Tobacco Control law in his speech. He said to conduct mobile court regularly in all districts of Chittagong division to enforce the Tobacco Control Law. Besides that Mr. Dipak Chakrabarti, Director, Local Government Department said that he will issue a circular to all local government in Chittagong division for implementing the tobacco control law.
There were more other valuable guests including Mr. Sankar Ranjan Saha, Additional Divisional Commissioner, Mr. Wahiduzzaman, DC of Khagrachari district, Mr. Amin Ul Ahsan, DC of Feni district and Dr. Mahfuzur Bhuiyan, Grant Manager, CTFK-Bangladesh were addressing the meeting. All the speakers focused on the implementation on Tobacco control Law, control the tobacco cultivation and production and ensure the graphical health warning through conducting huge mobile courts.