YPSA-Community Legal Services for Access to Justice Program (CLS) is working for the legal empowerment of marginalized and underprivileged communities in Bangladesh especially on Chittagong and Cox's Bazar Districts. For Capacity Development, Common Understanding of the program and on sharing the quarter activity; A Project Coordination Meeting was held at YPSA-Head Office, Chittagong on 03-04 August, 2016. The objectives of the Project Coordination Meeting was to develop the capacity of the field facilitator from distinguished geography and sharing their best practices, facing challenges and how do they overcome. 1st day of this meeting, only participated fifteen facilitators from six different Upazill's (Moheshkhali, Ramu, Kutubdia, Fatikchari, Rangunia and Sandwip). And 2nd day of this meeting all Upazillas manager were join this coordination meeting.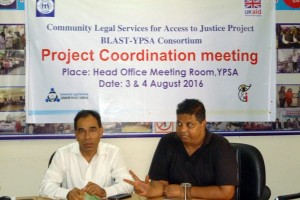 The monitoring and documentation officers (Newaz Mahmud and AKM Monirul Haque) have conducted some participatory monitoring and evaluation to enhance the overall quality of the program and replicate the model to the field, considering the important feedback from the participants and field visit. A discussion on financial standard (bill, vouchers and register update) was facilitated by Finance Officer (Md. Khorshed Anower and Sonjoy Barua) on among the participants. BLAST representative was also presence this meeting.
The mode of meeting was highly interactive. A workshop session was held on program standard, which was facilitated by Program Officers (Md. Jasim Uddin and Farzana Ferdous) and Program Coordinator (Md. Abdus Sabur). The workshop session was conducted in a participatory manner. All the participants were spontaneous to receive the knowledge and involved in brainstorming discussion, group work and presentation, question answer, experience sharing. During the workshop sessions, the participants were divided into several groups to perform the simulations. The facilitation was conducted using flip chart, power point presentation.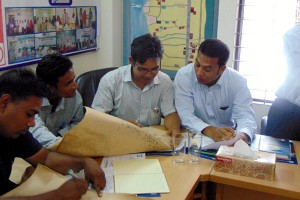 The participants provided their feedback during the whole session. All feedback was addressed seriously by the HO team. At concluding session, Md. Arifur Rahman- Chief Executive, Md. Mahabubur Rahman- Director (Social Development and Program Focal) and Palash Chowdhury-Director (Finance) were presents this coordination meeting and shared several significance issue on program betterment and future direction.
YPSA-Community Legal Services for Access to Justice Program is funded by UKaid and supported by Community Legal Services and implemented by BLAST-YPSA Consortium.