The Oneness – Home Peace Run, a global relay founded by Chittagong born Sri Chinmoy, marks its 30th anniversary this year, and Chittagong will join in celebrating this world-uniting initiative. On Saturday, February 18, a group of local and international runner gathered at the Chittagong press club and carry the peace torch to the city corporation bhavan , The City Mayor mr A J M Nasir Uddin received the torch as guest of honor. Other speakers include Mr Monzurul Islam, poet, painter and peace lover, YPSA team, volunteer & a relative of Sri Chinmoy.
Since 1987, the Sri Chinmoy Oneness –Home Peace Run has united people of all nations, cultures, races and faiths as they pass a flaming torch from hand to hand, circling the globe a ( peacerun.org). The relay seeks to promote international friendship understanding. Since its inception in 1987. The Run has traversed over 395,000 miles (632,000 km ) in 150 nations and territories, and touched  the lives of millions of people. The Peace Run is organized by Volunteers, and not seek to raise money or highlight any political cause. Today's events was the first Peace Run activity in Bangladesh.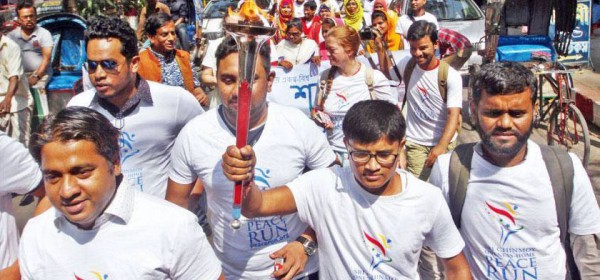 Born in Chittagong in 1931, Sri Chinmoy launched the Peace Run in New York, where he began his service to the ideal of world Peace in 1964. Over the next four decades he wrote 1,600 inspirational books, composed thousands of devotional songs in Bengali and English, created prolific and colourful artwork, promoted fitness and friendship through sport and established a humanitarian service organization. While he was a true world citizen, he always cherished his motherland, and Chittagong can proudly claim him as a remarkable son.
Among the luminaries who have held the peace torch and encouraged the runner s are President Mikhail Gorbachev, President Nelson Mandela, Pope Francis, Mother Teresa and sports men Muhammad Ali and Carl Lewis.