"Government has allocated adequate budget for the health sector. Present government has reopened the community clinics which were shut down earlier. Since the Rangunia Upazila is malaria prone area, long lasting insecticidal mosquito net has been distributing among the poor families. Last 9 years, government distributed 150000 insecticidal nets through YPSA in order to control malaria in Rangunia. Now Malaria infection and death caused by Malaria in Bangladesh has become tolerable for the important role played by NGOs besides government." Said former minister Dr. Hasan Mahmud MP while he was present as chief guest in an insecticidal net distribution ceremony organized by YPSA with the support of National Malaria Control Program (NMCP), Bangladesh Government.
The mosquito net distribution program was held on 18 February 2017 at Kodalia High School premises, Rangunia which was presided over by Abdul Kayum Talukder, UP Chairman of Kodala and moderated by Jigarul Islam Jigar, project manager of YPSA.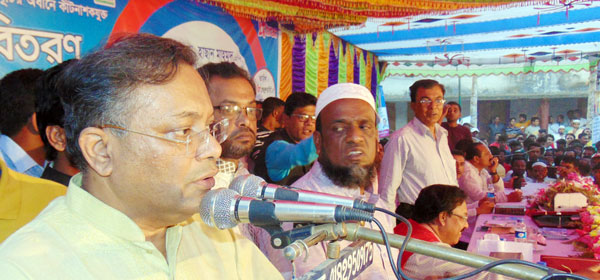 Rangunia Upazila Chairman Muhammad Ali Shah; UNO Mohammad Kamal Hossain; Union parishad chairmen and political leaders gave their speech in the program.