YPSA and Shristi Somaj Kollan Sangstha  jointly organized a workshop on "Implementation of Tobacco Control Law in Comilla" with the assistance of Campaign for Tobacco Free Kids and Bloomberg Philanthropies on 22nd February 2017 at Conference room, DC Office of Comilla.
Mr. Md. Zahangir Alam, Deputy Commissioner of Comilla district was present as a chief guest while Dr. Md. Majibur Rahman, Civil surgeon has presided over the workshop.
Deputy Commissioner commits that TC issue will incorporate as agenda in monthly development coordination meeting of Comilla. Besides, Mr. Md. Azizur Rahman, Additional District Magistrate, Mr. Zamir Uddin Jompi, Councilor of Comilla City Corporation, Ms. Salma Akter, Executive Director of Shristi Somaj Kollan Sangstha also delivered their speech.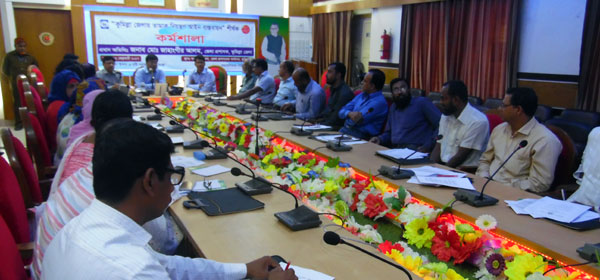 The district tobacco control taskforce members, executive magistrates, sanitary inspectors, councilors from Comilla city corporation and coalition members were the participants of the workshop. The main objectives of the workshop were to share Tobacco control law and Rules, share role and responsibility of authorized officer/magistrate/taskforce.
Ms. Nasim Banu, Team Leader of Smoke Free Project of YPSA has facilitated the workshop and shared the information on harms of tobacco use, country status, government initiatives, overview of the TC law and rules, violation of laws, role of authorized officer, taskforce and magistrate.
At the end of the workshop following decisions has come out from the participants
– Senior health education officer of CS office will act as a focal person for coordinating all TC initiatives in Comilla
– DC will include TC law as agenda in the monthly development coordination meeting.
– CS office will circulate a notice to all UNOs of Comilla for implementing TC law and discuss the TC law in the Upazilla coordination meeting.
– During conducting mobile courts, DC office preserve finger print of law violator
– The task force meeting will be arranged in March 2017
– Information of Mobile court on TC law will be provided by the DC office in each month and CS office will coordinate all the information.