YPSA, Sitakund Federation of DPOs, Access Bangladesh and Bangladesh DRF Grantee Coordination Committee jointly organized a sharing meeting on "Post-budget reactions: National budget 2017-2018 and status of people with disability". The meeting was held on 6 June, 2017 at the Chittagong Press Club.
Mohammed Giasuddin, Councilor of Chittagong City Corporation spoke as the chief guest while Vashkar Bhattacharya, program manager, YPSA moderated the program.
Bhaskar Bhattacharya said that the budget allocation for the people with disabilities is very inadequate and he treated the budget as a conventional kindness to the people with disabilities. He said that only 1.76% allocated for the social security and social empowerment of people with disability.
The budget allocation for the people with disabilities remains bounded to the ministry of social welfare. The allocated budget for each year does not meet the needs of people with disabilities. Because of this, the speakers blamed the welfare-oriented concept of policymakers. The speakers urged to reconsider some demands.
The demand includes to increase the number of stipends to the logical level in order to ensure the education of the students with disability, to improve the skill of the people with disabilities to make them valuable human resources and sufficient budget allocation for their employment, to start the disabled sports complex, to make all government's websites accessible in order to include people with disabilities in all services of digital Bangladesh, to ensure the adaptation and physical infrastructural access of people with disabilities, establishment of sign language research institutes for the speech and hearing impaired, import of accessible bus, train and taxi for public transport, development of funds for the disabled entrepreneur development and ministry-based budget allocation for the inclusion of persons with disabilities.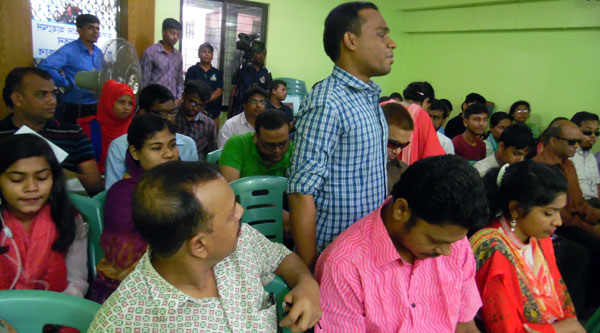 Finally, on behalf of persons with disabilities speaker emphasis on "Not just allowances, but employment opportunities for the people with disabilities'.