YPSA presented two research papers in the International Conference on Rethinking Development in South Asia, which has called for reinforcing mutual learning between academics and development practitioners. This tow-day conference was organized by Social Science Research Institute (SSRI), University of Chittagong on 07-08 October 2018.
About 150 participants, including academics, researchers, scholars, policy makers and development practitioners from ten different countries around the world attended the conference.
Dr. Moshiur Rahman, Economy Advisor of Prime Minister of Bangladesh was present as a chief guest and Professor Dr. Iftekhar Uddin Chowdhury, Vice-Chancellor, University of Chittagong has inaugurated the conference.
Professor Abdul Mannan, Chairman, University Grant Commission of Bangladesh was present as a special guest and Shaheen Anam, Executive Director, Manusher Jonno Foundation (MJF) was present as a guest of honor in the conference.
About seventy scholarly articles were presented in the conference under following themes – Economic development and its contestations; Social development Migration and development; Environment and sustainable development; Alternative development practices; NGOs, civil society and development; Gender and development; Indigenous people and development; Financial Inclusion and Development; Poverty reduction strategies; Sustainable Development Goals; Governance, Politics and Democracy; Development policies and practices in south Asia.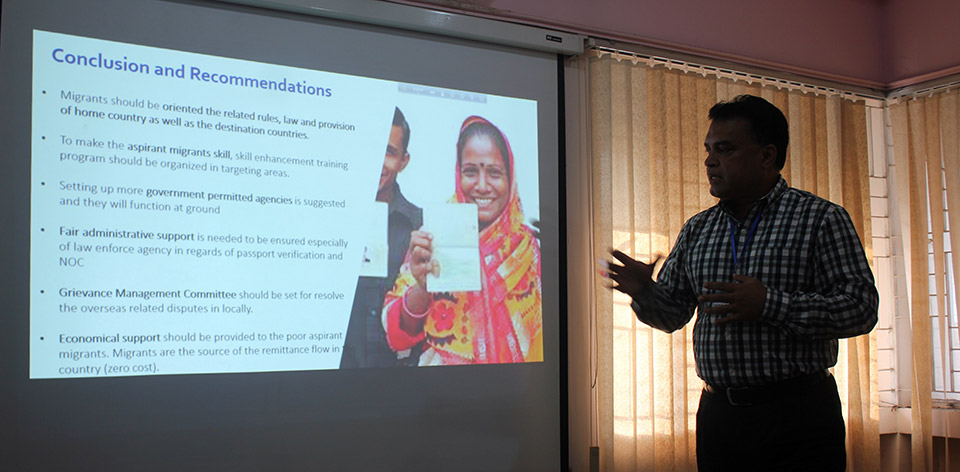 Md. Arifur Rahman, Chief Executive, YPSA presented a research article titled "The Actors and Factors of Labour Migration in Bangladesh" on the first day of the conference.  This article is about the actors of labour migration and the factors which interrupt fair labour migration in Bangladesh. Finally, he draws a conclusion on the basis of research findings that migration cost should be as minimal as zero and proposed to establish a grievance mechanism for resolving the overseas related complaint locally.
He set an example of Grievance Management Committee (GMC) Model as a success story of YPSA's Labour Migration Project.
Md. Abdus Sabur, Program Manager, YPSA has presented a research paper titled "Too Far From the Marginalized People: Access to Justice to Women and Social Excluded Group". This paper presents the present legal prosecution is not women and socially excluded group friendly.  As well as absence of female judicial, lawyer and Para legal activist in the marginalized areas which are impeding the access to justice of marginalized women. Finally, this paper has identified the areas for increasing access to justice to marginalize and socially excluded groups.
On the second day of the conference, Md. Arifur Rahman has participated in the thematic plenary sessions with the academics and development practitioners of South Asia. He emphasized the necessity of working together closely with academicians and development practitioners.
At the end, South Asian academicians, scholars and development practitioners formed "South Asian Development Network" to discuss issues concerning economic and social development in the region. YPSA's Chief Executive, Md. Arifur Rahman has been nominated as a founding member of this South Asian Development Network.