Including YPSA, 80 non-government and private sector organizations jointly organized a youth conference under the banner of Citizen's Platform for SDGs. Professor Gowher Rizvi, International Affairs adviser to the prime minister of Bangladesh was present as chief guest while Debapriya Bhattacharya, Executive Director of Centre for Policy Dialogue (CPD), inaugurated the conference.
The Youth Conference was held at the Krishibid Institution Bangladesh in Dhaka on 14 October 2018 aiming to aware the youth about their role in implementing the Sustainable Development Goals (SDGs).
Sudipto Mukerjee, country director of UNDP in Bangladesh;  Anisatul Fatema Yousuf, convenor of the Citizen's Platform for SDGs; Hanif Sanket, a popular TV host; and Sabina Khatun, captain of the Bangladesh national women's  football team, spoke at the inauguration session.
Students, representatives from various youth organizations across the country, policymakers, political leaders, government officials, academicians, and representatives from private sector and business community attended the conference.
There were eight parallel sessions including Employment and Entrepreneurship; Participatory Youth Leadership; Inclusive Society' Quality Education; Technology and Innovation; Good Governance and Rule of Law; Extremism and Addiction; Health; Nutrition and Sanitation.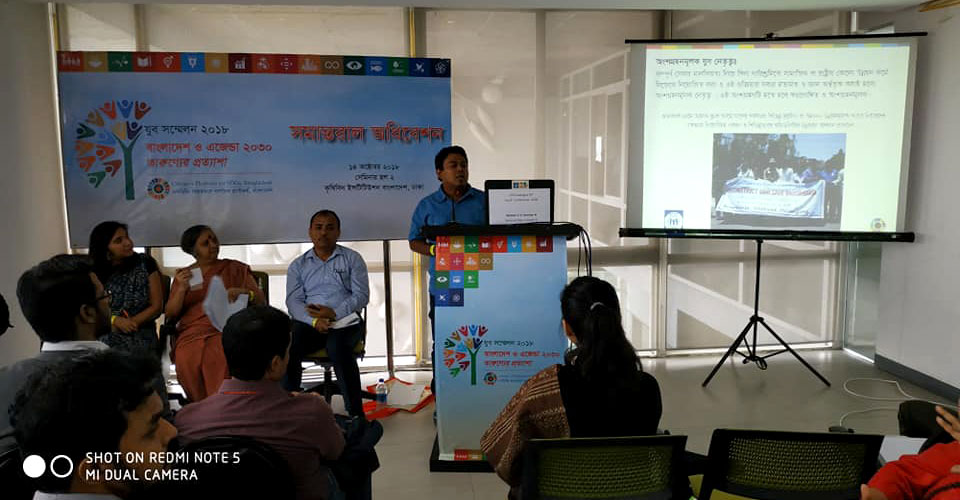 Md. Abdus Sabur, Youth Focal, YPSA has made a presentation at the parallel session of Participatory Youth Leadership in the conference.  He shared the challenges of youth leadership and importance of youth leadership in community development for achieving Sustainable Development Goals.
Md. Arifur Rahman, Chief Executive, YPSA was present in the Youth Conference.