An orientation session on Urban Risk Assessment (URA) with all sector's specialists of Chattogram City Corporation was held on 25th June, 2019 at the conference hall of CCC. The orientation session was organized by YPSA under an urban risk reduction project of Save the Children Bangladesh funded by C&A Foundation.
Mr Md. Abu Shahed Chowdhury, Secretary of Chattogram City Corporation presided the meeting while Mr. Md Mohiuddin, Freelance Consultant conducted the session.
Lt. Col. Mohiuddin Ahmed; Chief Engineer of CCC, Mr. Md. Rezaul Karim ; Chief Town Planner of CCC, Mr. Md. Saifur Rahman ; Education Officer of CCC, Mr. Sumon Barua ; Chief  Education Officer of CCC, Dr. Salim Akhter Chowdhury; Chief  Health Officer of CCC, Md. Morshedul Alam Chowdhury ; Deputy Chief Conservancy Officer of CCC, Mr. Md. Abul Hashem ;, Ward Councilor of 26 no. Ward, Mr. G. M Zobair ; Ward Councilor of 29 no Ward, Mr. Md. Mobarak Ali; Ward Councilor of 7no. Ward, Mr. Moynul Hossen Ali Chowdhury; Slum Development Officer, were participated in the session.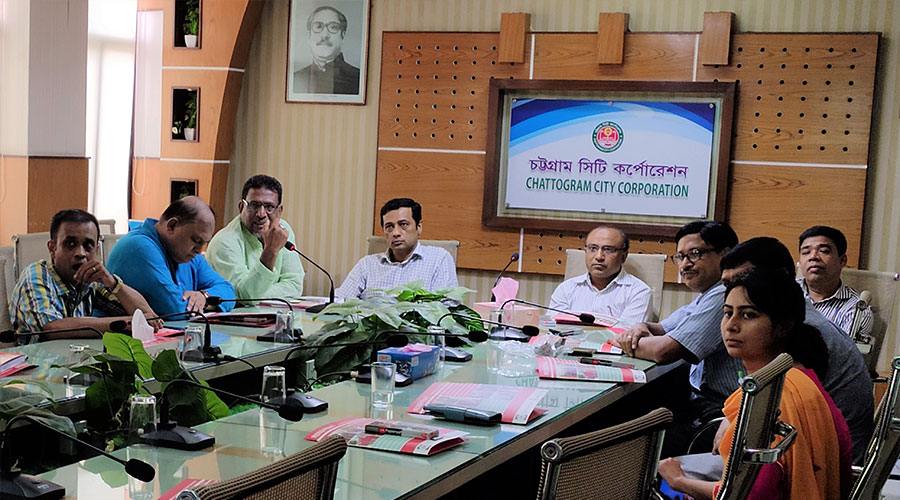 Mr. Md. Mohiuddin discussed different topics related to urban risk assessment such as urban hazards in Bangladesh context, national & international drivers of disaster risk management, role & responsibility of City Corporation on disaster risk management, urban risk assessment process and mainstreaming RRAP in development program etc.
Representative from Save the Children and YPSA were also present at the program.