"Although there is a healthy and safe working environment for the workers in various institutional industries in Chattogram, it is absent in the informal sectors. In these informal sectors, there is no security for wages, jobs, and health.  Workers do not have their social security and workplace safety and maternity leave for women workers." Speakers said in a dialogue on Decent work Agenda with Employees, Employers and Government Service Providers, which was held at Chattogram Press Club on 2nd September. The dialogue was organized by YPSA with the support of Actionaid Bangladesh.
The speakers urged the factory inspectors to take the necessary steps for the owners so that the owners can take appropriate initiatives in this regard.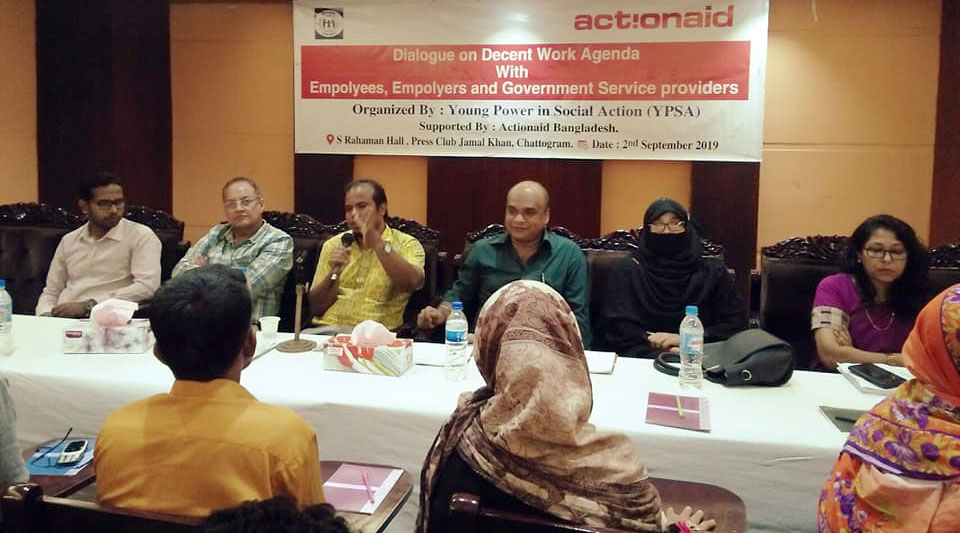 President of Chittagong Union of Journalists (CUJ) Nazimuddin Shyamal; Dr. Bishwajit Roy from DIFE; Journalist Alamgir Sabuj; Councilor of CCC Farzana Parveen and Yasin Chowdhury Asu; Nasim Banu Shyamli, Mohammed Ali Shahin and Farhana Idris from YPSA; Farhadur Rahim from AntioAid Bangladesh and representatives from BGMEA and BKMEA participated in the dialogue.