A view exchange meeting on "Empowering Girls: Promoting Rights and Justice" was jointly organized by  Radio Sagor Giri, YPSA and Campaign for Popular Education (CAMPE) with the support of Foreign and Commonwealth Office,  Government of the UK. The event took place at the Freedom Fighters AKM Mofizur Rahman Auditorium, YPSA HRDC, Sitakund on 28 October.
Upazila Chairman Alhaj SM AL Mamun was the chief guest at the meeting. Amjad Dilshad, Zila Parishad Member; Alhaj Badiul Alam, Mayor of Sitakund Municipality; Narul Mostafa Rashed, Upazila Health Officer; Md. Feroz Hossain Molla, Officer in-Charge, Sitakunda Model Police Station; Didar Alam, Acting Principal of Sitakunda Government Women College; Md. Mamun, Secondary Education Officer; Lutfun Nesa Begum, Social Service Officer;  Mohammad Noor, Primary Education Officer; Liton Kumar Chowdhury, General Secretary of Sitakunda Press Club; Zahirul Islam, vice-president  and  Shekander Hussain, former president, Sitakund Press Club were present as guests of honor.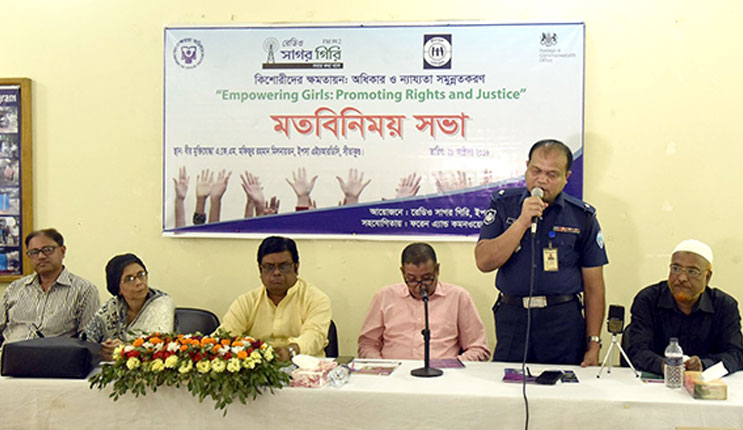 Palash Chowdhury, Director (Finance), YPSA moderated the meeting and Shakiba Khanam, Project Manager of CAMPE gave welcome speech.
At the beginning of the meeting, some adolescent girls explained their problems and the type of the people they often persecuted by.
The guest said that any harassment or torture of women is not ordinary crime and there is no excuse for it.  So wherever there is any such torture or harassment, we urge you to inform us immediately and we will take immediate action.
At the end of the meeting, the chief guest inaugurated a help-desk number regarding any problems or abuses of adolescent girls at Radio Sagar Giri.