YPSA has participated in a national consultation meeting titled " Global Forum on Migration & Development" on 29 October 2019. The Global Forum on Migration and Development (GFMD) is a state-led, informal and nonbinding process, which helps shape the global debate on migration and development. It provides a flexible, multi-stakeholder space where governments can discuss the multi-dimensional aspects, opportunities and challenges related to migration and development.
The GFMD process allows governments in partnership with civil society, the private sector, the UN system, and other relevant stakeholders to analyses and discuss sensitive issues, create consensus, pose innovative solutions, and share policy and practices. More recently, it has helped include migration in the 2030 Agenda for Sustainable Development and informed the formulation of the GCM (Global Compact of Migration).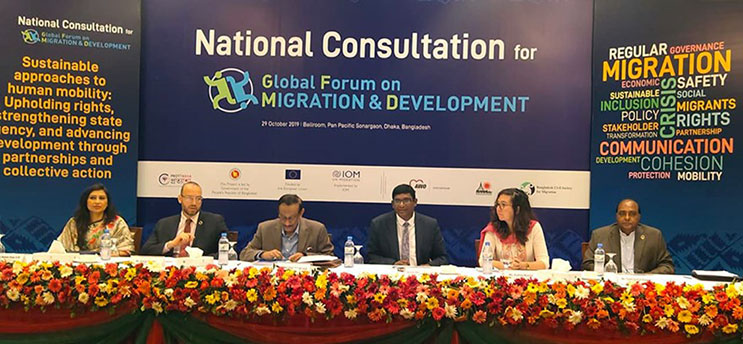 The 2019 GFMD with the theme "Sustainable approaches to human mobility: Upholding rights, strengthening state agency, and advancing development through partnerships and collective action".The 12th Summit Meeting of the GFMD will take place from 20 to 24 January 2020 at Quito, Ecuador. YPSA has participated the last GFMD 2018 at Marrakesh, Morocco.
YPSA- As an organization for Sustainable Development has been working on migration and development more than three decades. As a preparation work for upcoming 12th GFMD, YPSA has attended thenational consultation for Global Forum on Migration and Development on 29 October 2019 at Pan Pacific Sonargaon Hotel, Dhaka.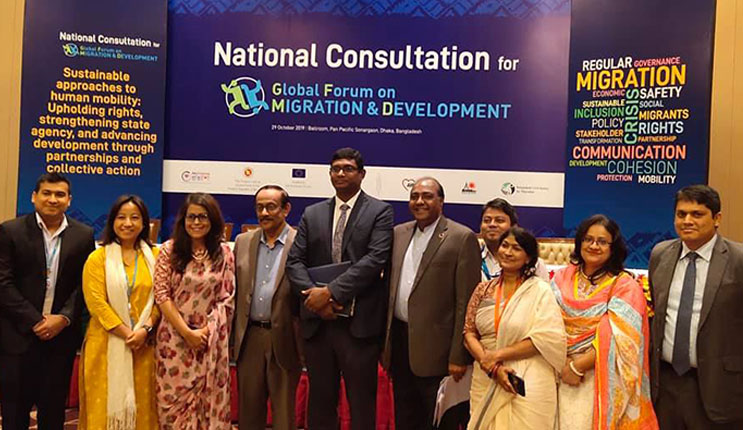 International Organization for Migration (IOM) in collaboration with WARBE Development Foundation, Bangladesh Civil Society for Migration (BCSM) and Mission Bangladesh have organized this consultation. This consultation seeks to provide a platform for open discussion among actors and stakeholders, from diverse sectors, on the overarching theme and cross-cutting themes of the 12th GFMD Summit.
Mr. Md Shahidul Haque, Honorable Foreign Secretary, Ministry of Foreign Affairs was presents as a chief guest of this consultation. In addition to Mr. Giorgi Giguri, Chief of Mission, IOM Bangladesh, Coordinator of Bangladesh UN Migration Network and Honorable Barrister Shamim Haider Patwary, MP, Member of Bangladesh Parliamentarians Caucus on Migration & Development Bangladesh National Parliament was present as a special guest of this workshop. Shahreen MUNIR, Head – Migration Governance Unit, International Organization for Migration (IOM) facilitated the consultation meeting.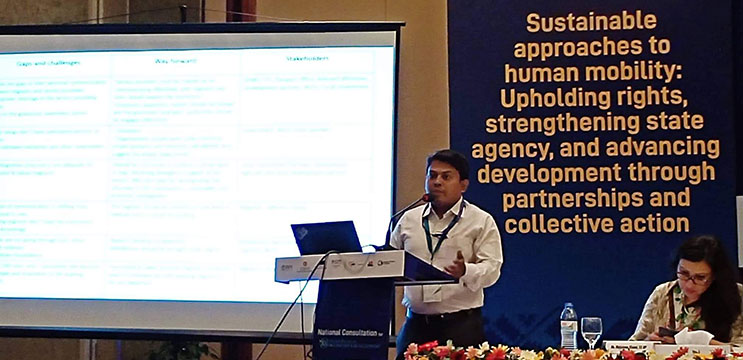 In that consultation, Abdus Sabur, Programme Manager, YPSA has presented a group work findings on Roundtable 4: "Communicating Effectively with Migrants". He emphasized the gaps, challenges, way forwards and role of stakeholders on different stages of migration (pre, during and post).
Alike there were six presentations were presented with the base of thematic areas of upcoming GFMD. Finally, this consultation will bears a positive contribution on global summit. The discussion issue will be summarized as titled BangladeshPerspective to the GFMC 2019 voice of civil society.