With the support of YPSA, NIRAPAD SHARAK CHAI "We Demand Safe Road" (NISCHA) arranged Rally, Discussion meeting and Leaflet distribution at Kawkhali Upazila of Rangamati on 22 October to mark the National Road Safety Day. This year's theme is: 'Jiboner Age Jibika Noy, Sarak Durghatana Ar Noy' – it reads as 'Livelihood is not before life, no more road accident.'
Panel Chairman of Kawkhali Upazila Parishad Ningbaiu Marma was present as chief guest while Vice-chairman of Upazila Parishad; Chairman of the Union Coordination Committee, BRDB; Officer-in-charge of Kawkhali Police Station Shahid Ullah were present as special guest in the program.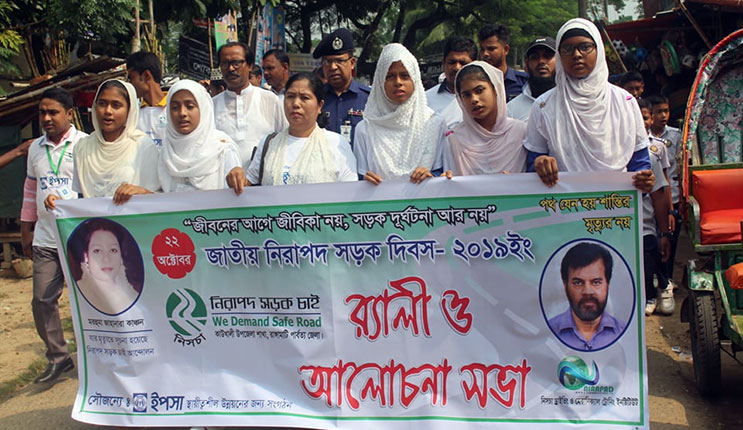 Mohammed Afsar , Convener of NIRAPAD SHARAK CHAI, Kawkhali branch; Md. Monir Hossain,  Member Secretary; Harun Ur Rashid, General Secretary and other members of NIRAPAD SHARAK CHAI, Kawkhali branch;  Abdur Rashid, President of Upazila Public Transport Owners Association; Didarul Alam, Drivers Association; , drivers of public transports; students and YPSA members, were present in the program.
Leaflets were distributed to make aware the transport owners, drivers, passengers and pedestrians.