A seminar titled "Modernization of the Bangladesh Water Development Board for Building Sustainable and Enduring Embankments to Face the Challenges Posed by Climate Change" was held in Chattogram Zila Shilpakala Academy Auditorium on 21 October, 2019 jointly organized by YPSA and COAST Trust. The chief guest was Mohammad Kamal Hossen, Additional Divisional Commissioner (General) Chattogram. In the seminar, several recommendations were made on how the activities of the Water Development Board could be more public friendly and sustainable and enduring embankments could be built.
YPSA's Deputy Director Mohammad Shahjahan presided over the seminar and Morshed Hossan Molla, focal person, YPSA-COAST Trust project was moderated the seminar. Deputy Director (Administration) of Water Development Board Md. Shahid Uddin, Assistant Engineer Mr. ShawkatI bn Saheed, Research Officer Mr. Shafat Hossen and Deputy Divisional Engineer (Banshkhali) Apu Dev were present as special guests. Among the other guests present were the Kamrum Nesa Moazzem, Agricultural Officer of Chattogram Metropolitan; Morshed Alam, Deputy Director of Bangladesh Rural Development Board; Abida Azad, Chattogram City Corporation Councilor (9, 10 and 13 Ward) and Md. Arif Dewan, coordinator (partnership, advocacy and campaign) from COAST Trust.
Chief guest Mohammad Kamal Hossen appreciated the positive and sincere role of the Government of Bangladesh in the battle with the climate change related problems and issues. In his speech, he stated that the Water Development Board should be more modernized to make its activities dynamic and public friendly. Public participation should be ensured during project planning and implementation. He also focused on the effective involvement of the local government and increase in the budget allotted to WDB.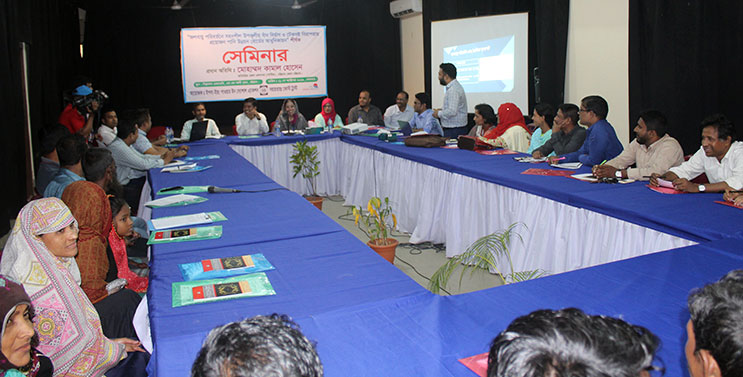 Mr. Shahid Uddin, Deputy Director of WDB, stressed on the strong coordination of the related ministries during embankments construction. He also pointed towards the WDB's budget increase and effective digital monitoring system for embankment maintenance.
Mr. Shawkat Ibn Saheed, Assistant Engineer of WDB said that adequate budget should be given to WDB for constructing the sustainable embankments.
Arif Dewan from Coast Trust focused on constructing the embankments by implementing proper scientific approach.  He also stressed on increasing the organizational capability as well as ensuring local government involvement and digital monitoring system.
Mohammad Shahjahan, Deputy Director of YPSA pressed the importance of increasing local public's involvement with the activities of WDB where they could share indigenous knowledge to make the embankments sustainable. He also focused on ensuring administrative transparency and accountability of WDB.