Bonnie Glick, Deputy Administrator of USAID and her team visited YPSA-Counter trafficking in Persons (BC/TIP) Program in Cox's Bazar on November 07, 2019.  The team also comprises senior officials of Winrock International. The team interacted with the members of the Survivor Voice ANIRBAN and Peer Leaders and visited the "Shelter Home" which aims basic care, support, rehabilitation and reintegration of human trafficking survivors.
"We are working on organizing and facilitating school sessions, community meetings and activation of Counter Trafficking Committee (CTC)", said AIRBAN members and Peer Leaders.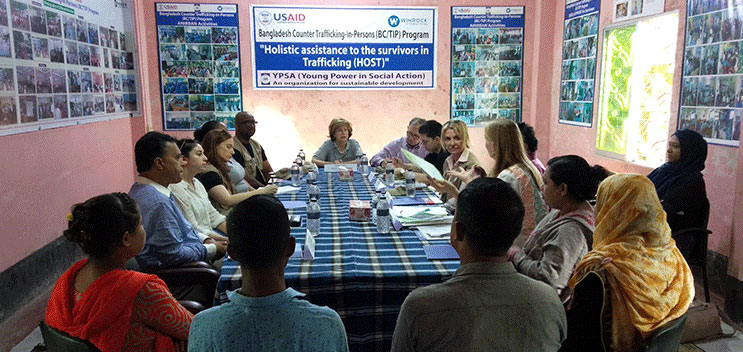 Deputy Administrator also talked to the trafficking survivors at the Shelter Home. Trafficking Survivors shared their stories. Bonnie Glick left his comment on the visitor's book at the Shelter Home.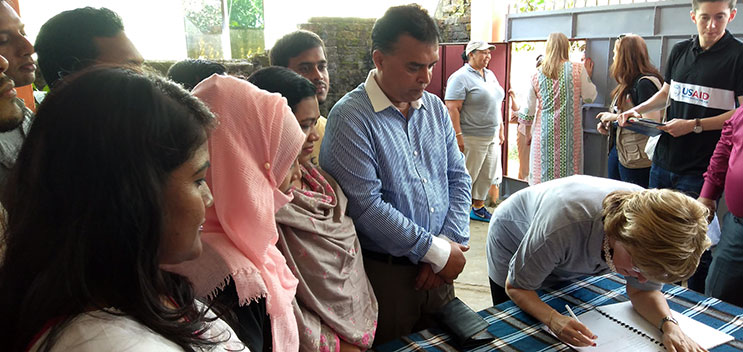 Dore Feith, Special Assistant, USAID/AID; Javier Piedra Deputy Assistant Administrator, USAID/Asia; Lourdes Green, C-TIP Advisor, USAID/DCHA; Brooke Ballengee, Analyst, USAID/ES; Sara Rubin, Deputy Director, Trips, USAID/AID; Derrick Brown, USAID/B, Mission Director; Rebeca Robinson, USAID/B Control Officer; Michael Wolford, Partner Security Liaison USAID/Bangladesh; Liesbeth Zonneveld, Chief of Party, Winork International-BCTIP; HM Nuzrul Islam, Program Dirctor, Winork International-BCTIP; Md. Arifur Rahman, Chier Executive, YPSA; Hosne Ara Rekha, Project Manager, YPSA-BCTIP Program; Md. Shahidulla, Finance & Admin Officer, YPSA-BCTIP were also present during this visit.