Seventeen children and youths attended a journalist training workshop organized by YPSA-PROYASH team in association with Poriprekkhit with the support of Save The Children. Prominent journalist of the country Ishtiaq Reza, Syed Borhan Kabir, Pranab Saha facilitated the training workshop. The workshop was held at the training center of Buro Bangladesh, Chattogram on November 25.
The facilitators discuss details of the basic characteristics of journalism, what should be included, what are the issues should be excluded, different types of work in different type of media etc.
By giving the trainees thirty minutes to travel and making a report, 10 were selected out of all trainees for performing internship on online media.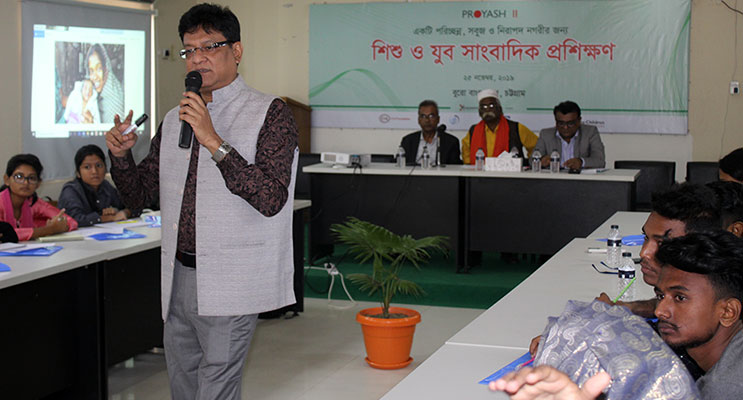 Knowledge Management Officer of Save the Children Nazib Newaz, Chattogram Press Club President Ali Abbas, Deputy Director of Save the Children Syed Motiul Ahsan, Chief Executive of YPSA Md. Arifur Rahman participated in the discussion session.
Press Club President Ali Abbas said, those who are receiving training from famous national journalists are undoubtedly fortunate. If they exercise their will power they will surely be able to establish themselves as journalists one day. He vowed all kinds of cooperation, including their internship.
YSPA Chief Executive Md. Arifur Rahman said, YPSA started Chattogram's first community radio program "Radio Sagor Giri FM 99.2″ which is now covering 50 kilometers radius.
He assured that YPSA would cooperate fully with trained children and youth journalists.
Nasim Banu, Deputy Director;  Showkat Osman, Project Coordinator;  Ataul Hakim, Project officer; Sanziada Akter, Monitoring and Evaluation Officer; Osman Gani, Field Officer of YPSA were also present at the discussion session.