Demanding maximum punishment and speedy trial of all forms of violence against women and children, YPSA organized a human chain at the Chottagram Press Club premises on 7th October to mark the World Children's Day and Child Rights Week 2020. More than twenty other like-minded organizations in Chattogram took part to form the human chain.
YPSA Chief Executive Md. Arifur Rahman said, over the past few months, violence against women and children has increased at an unusual rate in the country. All forms of violence, including rape, child abuse, must be brought to justice expeditiously and maximum punishment must be ensured. If necessary, the country's conventional law has to be changed to stop violence against women and children including rape. Children have to be taught morality and respect for women at home. Moral education should be imparted in educational institutions to create a respectful attitude towards women.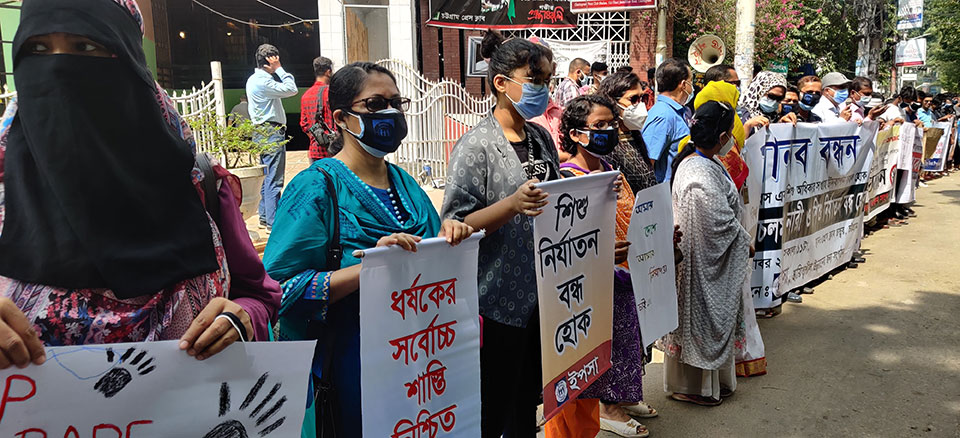 "In the last 9 months, 975 incidents of rape have taken place in the country, out of which 208 are organized rapes. There have been 43 murders after rape. According to the Ain o Salish Kendra (ASK), 1,413 women were raped in 2019. In 2018 this number was 732. And this year, at least 3 women have been raped and tortured every day. Needless to say, this calculation is incomplete. Not all news comes in newspapers. Many of the rape information were suppressed by the accused under the pressure of influential people or their family members." YPSA Program Coordinator Mohammad Ali Shahin said.
It is not only the responsibility of the government alone. People from all walks of life should take a united stand against the abuse of children and women. He added.