A project inception meeting of "Food Distribution Project for Forcibly Displaced Myanmar Nationals (FDMN) in Bhasan Char, Noakhali District, Bangladesh-2022" funded by Muslim Aid UK, Supported by Muslim Aid UK Bangladesh Country Office and implemented by YPSA, was held on 15 March at at CiC office conference room in Bhasan Char, Noakhali.
Md. Khalid Hossain, CiC of Bhasanchar & Executive Magistrate was present as chief guest and chaired the meeting. Md. Abu Bakar Siddique, ACiC of Bhasan Char & Executive Magistrate and Mr. Dr. Nazmul Hassan, Health Coordinator at Bhasan Char were present as guest of honor. Representatives from United Nations World Food Programme (WFP), INGOs, NGOs and other stakeholders were also participated in the meeting.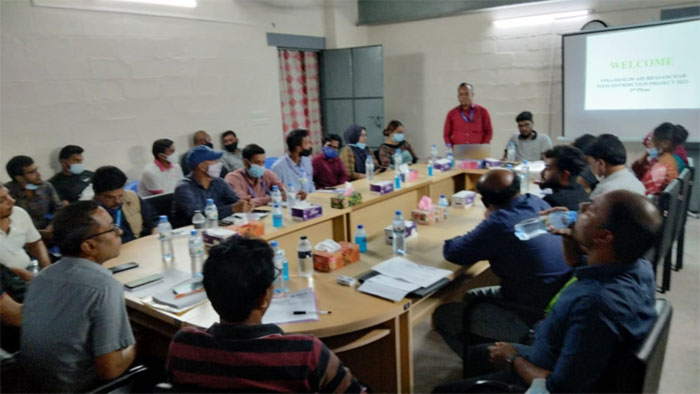 At the beginning of the meeting Md. Farhad Hossain khan, Monitoring & Reporting Officer, MABFO gave a speech on Muslim Aid UK, Bangladesh as well as Food distribution program 2nd phase in Bhasan Char.
He says, under this project, MABFO started the humanitarian works in Bhasan Char since June'2021. Here we develop a perfect database for assigned 555 families of FDMNs. Muslim Aid will ensure food quality as well as quantity of each and every distribution.
Chief Guest of the occasion Md. Khalid Hossain, CiC of Bhasan Char and Executive Magistrate gave emphasizes to distribute on cluster based food package. He requested to maintain food quality and quantity to relevant actor NGOs of food distribution. He also advice to include NFI, meat, egg and milk with existing food pack. Finally, he thanked YPSA and Muslim Aid for implementing the project in Bhasan Char and expressed his cordial gratitude to all participants.
Nur Mohammed from YPSA shared an overview of the project through power point presentation. He shortly described project goal, objectives, direct beneficiaries and major activities according FD-7. He also shared about database report of targeted beneficiaries.
He expected the full cooperation of the government administration so that the food support could reach the targeted 555 FDMN families through the project. He also sought the involvement of the concern NGOs who are working with food sector in Bhasan Char. Finally he highlighted the some key achievement of the project from the beginning. And thanked to all for giving their valuable time in the meeting.
In the closing session ACiC Md. Abu Bakar Siddique gave thanks to YPSA & Muslim Aid UK, Bangladesh for implementing this project in Bhasan Char. He highlighted to YPSA & Muslim Aid for the humanitarian assistance and requested to work in Bhasan Char on a larger scale in future.