Every entrepreneur comes forward by overcoming his or her family, social and many other obstacles. But if we cut short the work due to these obstacles, it will exterminate one of our entrepreneurs. My humble request to you is to face the obstacles in a positive way with your innovative thinking but never stop your initiative. Said, YPSA founder Chief Executive Md. Arifur Rahman while he was present in an Entrepreneurship Award ceremony in Sitakund.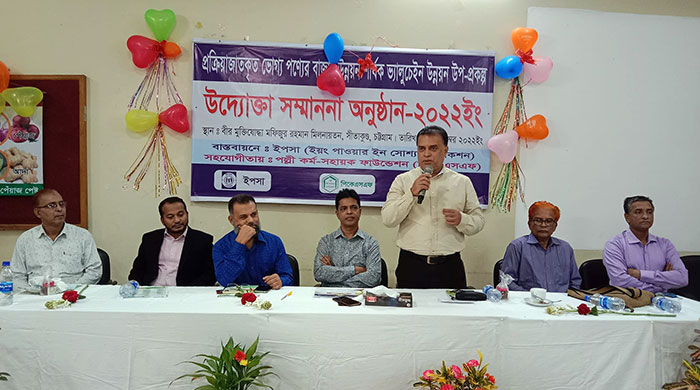 YPSA organized the Entrepreneurship Award under the sub-project "Value Chain Development on Processed Consumer Goods Market Development" supported by Palli Karma-Sahayak Foundation (PKSF), on 15 December at the Bir Mukti Joddha Mofizur Rahman Auditorium of YPSA-HRDC in Sitakund.
At the beginning of the day-long program, the entrepreneur fair was inaugurated by cutting a cake. Later discussion meeting was held to develop inter-relationships between entrepreneurs, suppliers and vendors and participation of entrepreneurs.
Director of Economic Development Department of YPSA, Md. Manjur Morshed Chowdhury delivered the welcome speech while program producer of Radio Sagargiri, Mohsena Mina moderated the event.
YPSA Program Manager Newaz Mahmud, Super Shop Basket Chairman Md Nazmul Hossain, Green Agro Director Md Nurul Islam, Farmers Market Director Md Golam Nizami spoke as special guests in the discussion meeting.
Among the entrepreneurs, Nahid Chowdhury, Samsul Islam Bhuiyan, Sanjida Afrin Jui, Nahida Akhtar spoke.
Entrepreneurs participating in the fair display their various consumer products and seek all-out cooperation to expand their product promotion and development activities.
At the end of the fair, certificates of appreciation were given to the entrepreneurs. Suman Debnath, project manager of RMTP, discussed the various activities of the project.
The meeting was attended by Assistant Director of Economic Development Department Md. Saeed Akhtar, Civic Consortium Project Manager Md. Shah Sultan Shamim, YPSA Sitaku Area Manager Md. Tofail Hossain, SEP Project Manager Mohsin Mia, Program Officer Md. Anishul Haque and various project officials of YPSA. Business Development Officer Gautam Biswas managed the entire program.