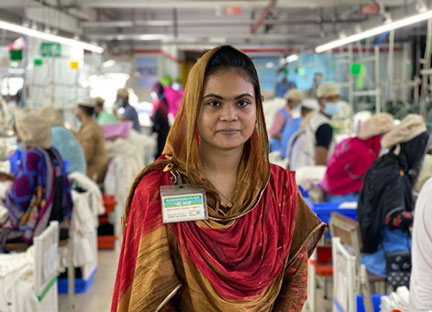 Akhi Katun is 26 years old, working at Ever Smart Bangladesh Ltd. She has been working here for 5 years and now she is a Junior Operator in Sewing Section. Her husband Joy Ahsan is a businessman. They have a 4 years old baby girl named Khadiza. Akhi is from Kushtia and here she resides near the factory. Akhi was the only child of her parents and now she has only one child as well. She loves to be with her daughter in her free time.
"I felt very overwhelmed when got my first salary in her hand. But in the beginning, I used to get salary cash in hand. Back then I could hardly control my income and expenditures. But now as I am receiving my salary in a digital account, I am happy as I can control my income by tracking the expenditure now", she shared her memory of getting her first salary and the advantages of a digital account.
She was familiar with ATM card and bank account before she started getting her salary in a digital account. Moreover, her husband helped her to use the account. 
She liked the part about methods of savings and controlling money as the best parts and advice from the trainers. She writes down each and every expenditure and her income. 
She is not saving currently for some of her family crisis although she has dreams with her daughter. But soon she gets out of all the crisis, she will start saving again.
She told us that her life is pretty much different from the life her mother and grandmother lead. She is a very important member of her family as she has influence over the decisions in the family. But her mother and grandmother did not have the right to exercise any type of freedom they had never been asked for giving any opinion in any family decisions. Moreover, Akhi is a self-dependent woman who can easily go out and work but her mother and grandmother could not think of this even in their dreams.