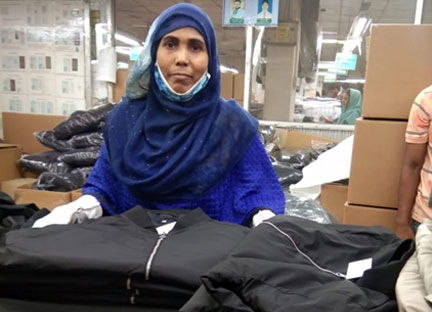 Razia Sultana, is a 34 years old woman who comes from the district of Tangail, Bangladesh. She has been working in Debonair Ltd. for the last 4 years in the Finishing section.
Razia's husband also works in this factory. They have a daughter who studies at a reputed private university, a renowned private university in Bangladesh. Razia had to stop her studies in primary school due to the extreme poverty of her family and her husband could not study well. She was married at a very early age. But both of them, Razia and her husband did not compromise with their daughter's studies.
Razia sends money to her parents and her daughter who lives in Dhaka. But still, she tries to save every month. She informed "Actually, I thought it would be tough for me to save after managing family expenses. But after the HERessentials peer educator training, I realized that anyone can save if they want. Also, saving is important, especially for low-income people like us. When I learned about the budget in this training, I found a way to save. Now I maintain a budget and follow this every month. Moreover, I learned about harmonious relationships and stress relief. This helped me a lot. Before this training, most of us did not know how to maintain sound mental health, good relationships in family and workplace, solve a problem and get relief from stress."
Razia Sultana is now planning to build a house of her own and a business that will help her to earn her livelihood after leaving the job. That's why she is saving.
Name: Razia Sultana
Section: Finishing
ID: 6171