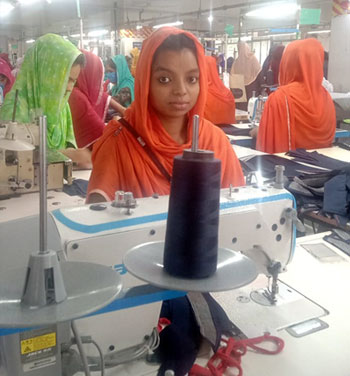 Sharifa Asha is a young woman of 22 from the district of Gopalganj. Sharifa was in class 8 at a local school when she had to leave her studies. Her parents have 3 more kids so it was not affordable for them to continue everyone's studies. That's why they stopped their elder daughter's studies. Gradually she started supporting her family. She joined the garments last year. After joining this factory, she got married. Her husband is an electrician who lives in the village.
Sharifa was a peer educator in HERfinance training. She shared her experience in training. When asked about her savings and her future plan she shared that she wanted to save but could not. As she has to support her family and start her own family as well, she couldn't save. But after getting the HERfinance training, she started saving. And after all the expenses, she accumulated 10,000 BDT. Although this is not a big amount, she considers it huge as she was not able to manage her income previously and had to borrow from others. Now, managing all the necessities, she'd been able to save some.
"Now I know about the bank. Previously, I did not understand the ABC of the bank. But now I know how to open an account, and what are the facilities of different types of accounts. Most importantly, I know the importance of banks now. I know that now I can get my salary account linked with the DPS account. Thus, I won't need to go to the bank every month. Just after getting the salary, automatically my money will be deposited into my DPS account. So, it is a big achievement for me to understand the pros and cons of the bank."
Moreover, she has some financial planning for the future and she also knows now that without having any particular plan, saving is worthless. So, she is going to open a DPS account next month for her future plan of her own farm as she won't be working for a lifetime. According to her, "I would be able to pay all the debt by next month and I will be taking some financial plans.''
Lastly, she expressed her utmost thanks to the stakeholders of the training and let us know about the growing interests of her coworkers in training. 
Name: Sharifa Asha
Section: Sewing
Post: Operator
ID: 3872