A Project Quarterly Meeting took place at the YPSA HRDC-Cox's Bazar Campus in Cox's Bazar on May 25, 2023. The meeting centered around the "Integrated Protection and Health Program for Rohingya Refugees & Host Communities in Cox's Bazar," which is being implemented by YPSA (Young Power in Social Action) with support from the International Rescue Committee (IRC) and funding from Global Affairs Canada (GAC).
The primary objective of the meeting was to review the project's progress and assess the target versus the achievements made so far.
Meeting Highlights: The session was inaugurated by Mr. Mohammed Shahidull Islam, Head of Rohingya Response Program and Assistant Director, who extended a warm welcome and expressed gratitude on behalf of the YPSA management to the staff for their unwavering dedication despite the numerous challenges encountered.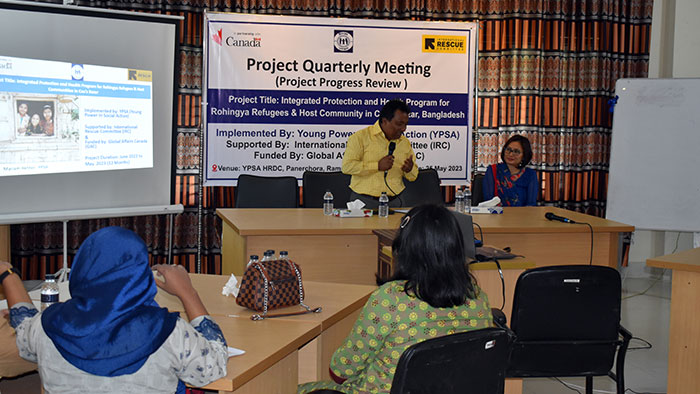 Following the introduction, Mr. Jishu Barua, YPSA Program Manager, outlined the objectives of the meeting. Other notable attendees included Mr. Mohammed Harun, the YPSA Cox's Bazar Focal Point, and Ms. Jocky Dewan, the WPE Manager.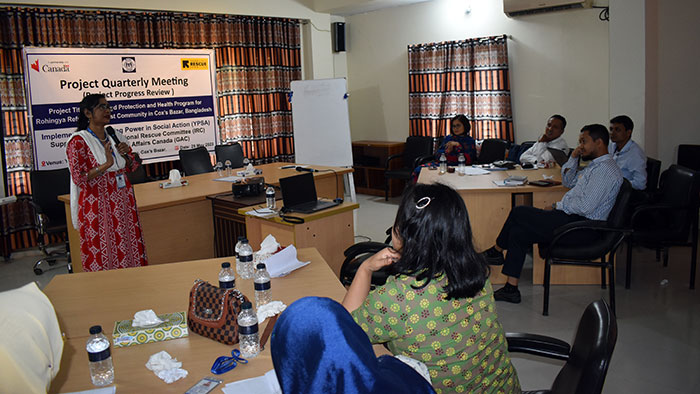 The Project Coordinator of the GAC project provided an informative overview of the project's progress and accomplishments through a PowerPoint presentation, while managers from the Integrated Women Center (IWC) presented updates specific to each camp (Camps #5, #18 & #25).
Project Objectives:
Ensure the safety of Rohingya women and girls in their homes and communities through integrated Sexual and Reproductive Health and Rights (SRHR) and Protection Services.
Reduce GBV risks through enhanced community engagement.
Raise awareness among women and girls and encourage them to seek SGBV (Sexual and Gender-Based Violence) services tailored to their individual needs in a timely manner.
Project Outcome:
The project aims to ensure the safety of Rohingya women and Girls in their homes and communities through the provision of integrated Sexual and Reproductive Health and Rights (SRHR) and Protection Services. The project spans from June 2022 to May 2023 (12 months), during which YPSA has reached 38,550 individuals (27,071 females and 11,479 males) across camps #5, #18, and #25.
Project Achievements:
Integrated Women Center: A total of 38,550 individuals were reached, providing knowledge on gender-based violence, GBV concepts, disaster risk reduction, sexual and reproductive health, Protection from Sexual Exploitation and Abuse (PSEA), Psychological First Aid (PFA), Psychosocial Support (PSS), early marriage prevention, human trafficking, power dynamics in society, and violence prevention methods.
Girl Shine: 540 adolescent girls and 720 caregivers (420 females and 300 males) participated in life skills curriculum-based sessions, fostering awareness and understanding on topics such as trust, social and emotional skills, health and hygiene, safety, solidarity, and visioning.
SASA! Together: Through SASA outreach activities conducted by volunteers, activists, and leaders, a total of 8,294 beneficiaries were reached, raising awareness about power structures, GBV prevention, and other relevant topics.
Child Protection: To support parents in protecting the safety of adolescent boys and girls, 600 caregivers participated in sessions on positive parenting, while 600 adolescents learned from the Support Adolescent and their Families in Emergencies (SAFE) curriculum.
Day Celebrations: The project ensured the participation of 1,200 women and adolescents in events such as the 16 Days of Activism and International Women's Day Celebrations. These events aimed to disseminate messages on gender-based violence and related issues among the Rohingya community, raising awareness about the consequences of GBV and women's rights.