YPSA and Save the Children set up around 765 feet long safety railing around Taltol Canal in 4 No Chandgao Ward of Chittagong City Corporation (CCC). On 22nd May, 2023, Chief Executive Officer of CCC, Sheikh Mohammed Touhidul Islam, inaugurated the railing. In addition, Councilor of Ward 4, Asrarul Hoque, Simon Rahman, Project Manager of Save the Children, Project Coordination of YPSA, Ward Disaster Management Committee members and urban community volunteers were also present during the inauguration.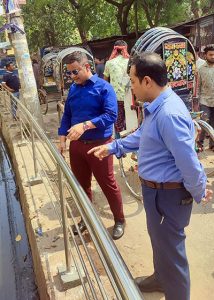 To be mentioned, there was no railing in the canal adjacent to Faridapara Taltal road under Ward 4 of Chattogram City Corporation. Pedestrian could not understand the boundary of the canal and the road in the dark at night. As a result, various accidents occured, students and other common pedestrians were daily victims of this problem. The risk was mentioned in Urban Risk Assessment report of Ward 4 prepared by community people.
In addition, one of the children and youth journalists of Proyash II project raised voice through newsletter write up to the respected Ward Councilor. She shared her bad experience on slipping into the canal at dark night and urge councilor to take initiative on behalf of all child pedestrian for safety.
In such situation, the issue also came up in discussion during Ward Disaster Management Committee meeting and Councilor requested YPSA to initiate the risk reduction of Taltol canal. Regard this YPSA arranged several meetings and campaign with WDMC, Moholla Committee and Urban Community Volunteer about cleaning and safety railing set up at Taltol canal.  As a result in coordination with WDMC YPSA under Proyash II project set up the safety railing around Taltol canal.