YPSA and East Delta University (EDU), Chattogram, Bangladesh jointly organized a workshop on "Geriatric Care Needs in Bangladesh" at the seminar room of East Delta University (EDU) on 25 July. This workshop was presided over by Prof. Muhammad Sekandar Khan, Hon'ble Vice-Chancellor of EDU.
Prof. Dr Hafiz T A Khan, University of West London and University of Oxford, was the keynote speaker at the event and he made a presentation on "Global Aging Populations".
In this workshop, Md Arifur Rahman, Founder Chief Executive of YPSA and PhD Research Scholar, Techno India University, Kolkata, India, shared YPSA's initiatives on 'Elderly People' especially on "Sitakund Model of Elderly People" which was started in 2016.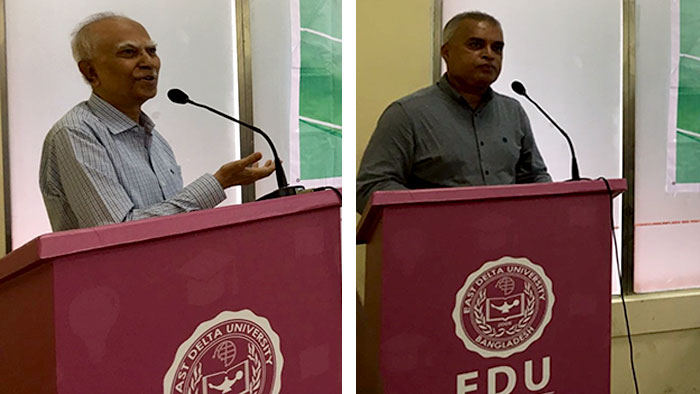 In this continuity, Morshed Hossan Molla, Research and MEAL Officer, Department of Knowledge Management for Development (KM4D) Division, presented a presentation on Rural Aging in Bangladesh: Findings from the YPSA Aging Study 2023 on behalf of the YPSA Research Team.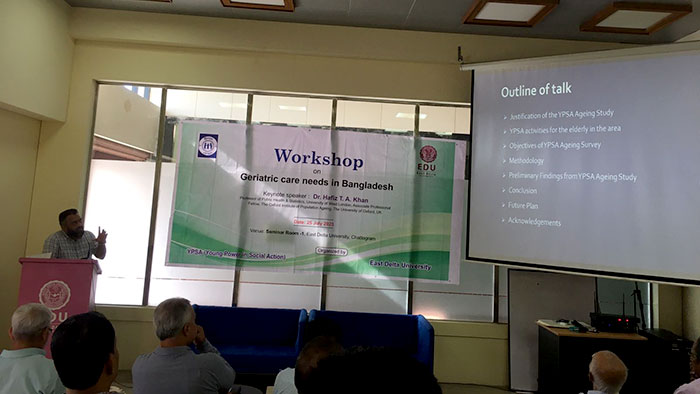 At this moment, a number of renowned professors, especially Professor Ahmed Hossain, University of Sharjah, UAE; Alauddin Chowdhury, Daffodil International University, BD and different faculties of East Delta University, BD  have participated in this workshop.
The workshop was also attended by YPSA Senior Management Team, Research Team and Program Team, as well as EDU Graduate Research Fellows and students.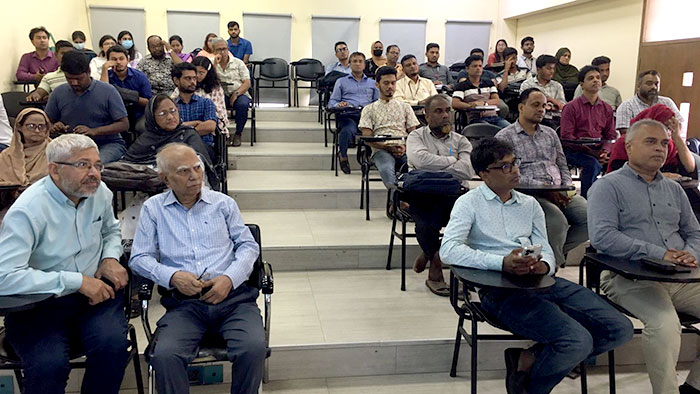 YPSA & EDU are jointly grateful to Mohammad Shahidul Islam Chowdhury, Associate Dean & Associate Professor, School of Liberal Arts and Social Science, EDU who presented this entire workshop, and Mr. Newaz Mahmud, Program Manager, YPSA who successfully collaborated with the experts, faculties, and research fellows and arranged refreshment session end of the workshop.
At this workshop, Hon'ble Vice-Chancellor emphasized collaborative research work where university graduates can get scope to engage themselves. As well as authentic first-hand data can easily be explored the facts or problem, he said. He also felt interested to do joint research work.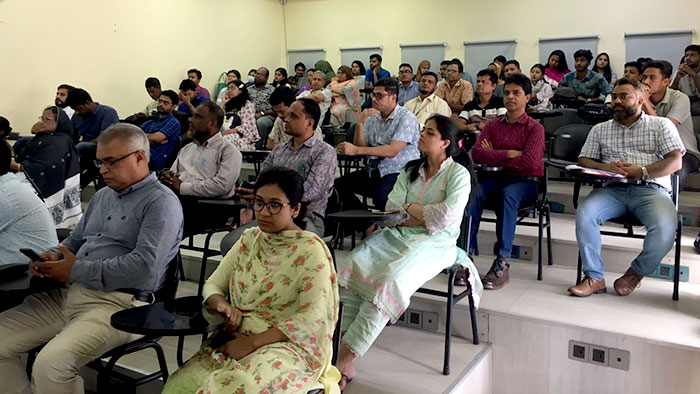 Besides, Chief Executive of YPSA, Mr. Mohammed Arifur Rahman emphasized that 'society' is for all. Hence Every people have to work with the same goal and come forward. However, YPSA is already working under the MoU in various educational institutions in the country and abroad. YPSA is very interested in working with academic institutions like EDU and organizing an international conference on contemporary issues like 'Inclusive Finance', he said.