With the theme "Reach every victim of trafficking, leave no one behind", YPSA (Young Power in Social Action) in association with the International Organization for Migration (IOM) and  in coordination with Upazila Administration and Jaliapalong Union Parishad organized the "World Day against Trafficking in Persons 2023" in Ukhiya, Cox's Bazar on 30th July, 2023.
The program included a rally, discussion, video show and street drama.  The program kicked off with a rally joined by peoples from all walks of life that included the community people, reintegrated victims of trafficking, representatives of government and non-government, journalists, teachers, students etc.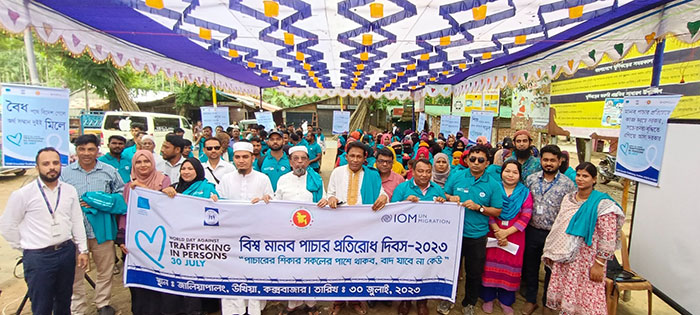 Mr. Jishu Barua, Program Manager and Counter Trafficking Focal of YPSA presided over the program while Mr. SM Syed Alam, Chairman Jaliyapalong Union Parishad was present as the Chief Guest.
Among the special guests who were present included Mr. Al Mahmud Upazila Social Service Officer and Ms. Gulshan Akhtar, Upazila Education Officer of Ukhiya Upazila , Mr. Bikash Kumar Barua, Coast Guard Representative, Mr. Ratan Kanti Dey, Ukhia General Secretary of Press Club, Mr. Tariqul Islam, Union Parishad Secretary, Mr. Sayeduzzaman, IOM Representative, UP Member Azizul Haque, Jalal Ahmed, Zakir Hossain, Zahidul Alam, Kamal Hossain, Morjina Akhtar, Rozina Akhtar and Project Officer Tanim Rahman Mitu, YPSA.
The event was moderated by YPSA's Project Officers – Suvra Adhikari and Ms. Shanuching Marma.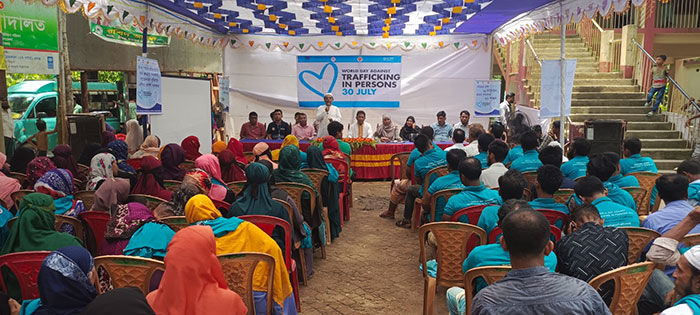 In the speech of the Chief Guest, SM Syed Alam said, "People are falling prey to human trafficking due to greed in this union. Traffickers have revived and resumed their criminal activities recently. We all need to be aware of human trafficking and save ourselves from the tempting offers of traffickers".
Upazila Social Service Officer Al Mahmud said, "The trend of human trafficking is very high in this upazila, especially in Jaliapalong Union. In recent times, several cases of child trafficking have been reported. So our parents should be more careful of human trafficking".
Gulshan Akhtar, Upazila Education Officer of Ukhiya Upazila, Said, "I have received some reports of child missing and kidnapping in the Ukhiya. YPSA is creating awareness building sessions on anti-trafficking issues in the Parents' Assembly in the primary schools here which we highly appreciate."
Coast Guard Representative Bikash Kumar Barua said, "We will take swift action if any information related to human trafficking reaches us . We will work together with all law enforcement agencies to combat human trafficking here."
IOM representative Sayeduzzaman said, "Not only Jaliapalong or Ukhia, the entire Cox's Bazar district is one of the most vulnerable areas for human trafficking. Raising awareness is one of the ways to reduce human trafficking in this area".
General Secretary of Ukhia Press Club, Mr. Ratan Kanti Dey said, "Since the arrival of Rohingya in 2017, the trend of human trafficking in the area has increased manifold. Young people meet with the tragic fate  who chase their dreams year after year,  and the destitution of their families cannot be accepted at all".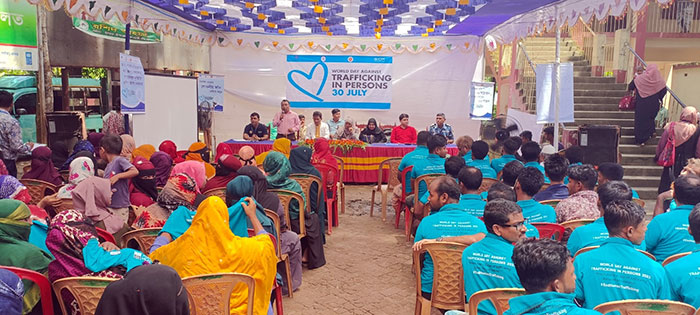 Jishu Barua, Program Manager said, "Ukhia Upazila, especially Jaliyapalong, is a coastal area and economically weak, so the tendency of human trafficking in this area is very high. There is no alternative to awareness to resolve this situation". He added that we must stand by the victims of trafficking for giving them a sustainable and decent life. It is not possible for one individual or agency to fully meet the needs of the trafficked victims. Even, government cannot alone provide all the support that the trafficked victims need. However, a collaborated effort of all the agencies including government and non-government can meet the needs of the victims for their sustainable reintegration.
The program ended with the presentation of a video documentary on anti-trafficking and a street drama.