YPSA celebrated International Day for Disaster Risk Reduction 2023 in the different parts of Chittagong and Cox's Bazar district with the support of District and Upazila (Sub-District) Administration. The theme for the 2023 International Day for Disaster Risk Reduction is "Explore the Reciprocal Relationship between disasters and inequality to tackle disasters during the emergencies".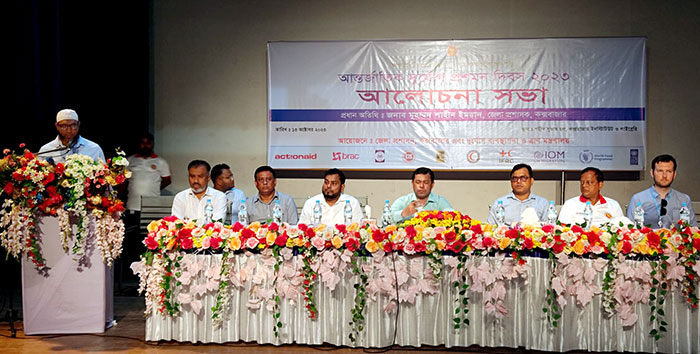 Md. Shahin Imran, Deputy Commissioner, Cox's Bazar district inaugurated the International Day for Disaster Risk Reduction 2023 in the premises of Cox's Bazar district administration office . Rally and discussion program were arranged on the importance of the occasion of this day. Youth groups and community people who are beneficiaries of different programs of YPSA were attend the event celebration.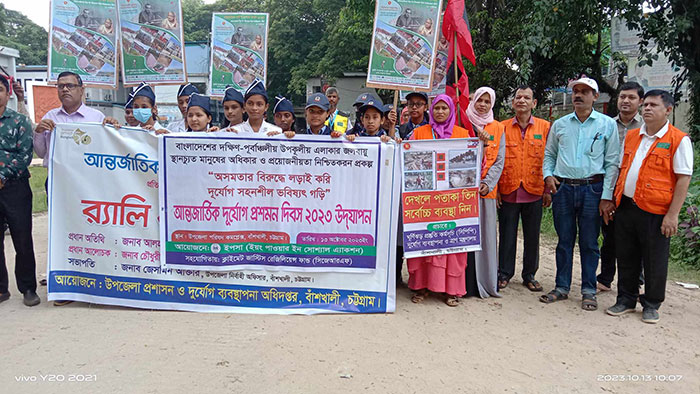 YPSA-CJRF Climate Relocation Program which was supported by Climate Justice Resilience fund (CJRF) arranged human chain, rally and discussion program in Banshkhali and Kutubdia upazila parishad. Ms. Jesmin Akter, Upazila Nirbahi Officer of Banshkhali Upazila discussed with the community people in officers club of Banskhali on the occasion of this day. Youth forum members and community team members of YPSA-CJRF program were attend the day observation. Mr. Bipab Tanchangya, UNO of Kutubdia upazila has given priority for strong disaster preparedness against cyclone, earth quake and other hazards for reducing the loss and damage to the community people.
YPSA-IRC-USAID supported program arranged Rally, Human Chain, Discussion and fire safety prepared events in Ramu, Chakaria and Ukhiya upazila of Cox's Bazar district.
Bangladesh Red Crescent Society-Cyclone Preparedness Program team, large number of people including district and Upazila level officials, students, teachers, activists of different NGOs and media men took part in the programs spontaneously in the Chittagong and Cox's Bazar district.
The speakers in their speeches said due to geographical location, Bangladesh has become one of the most disaster prone countries in the world and it experiences extreme weather conditions and disastrous hazards including cyclone, flooding, river erosion, tidal surges, fires regularly.
Bangladesh is also in the risk of newly added earthquake as it's situated in the seismic zone. High population density, unplanned urbanization and faulty construction of buildings have intensified the risk of causalities, they also said. Now Bangladesh is a role model in combating natural disasters.