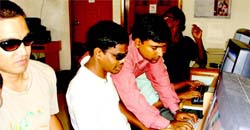 That is a closing ceremony of ' Professional Development Training, " I am going to speak about.Reading everyone's face & mind I find the same emotion though the near last training was about professionalism. I guess the four months training is successful but why everyone is crying? It's feelings ,empathy, separations, recalling times spent back. Each one is confident about future but diffident about sentiment, reaction, passion and any other soft feelings. First half hour passed with sayings about back days, time forward and crying simply for nothing.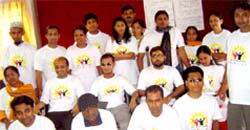 Behind closed door truth is these twenty people came close together under one banyan tree. They trained themselves with technical supports and trained others how to be humane, just like a human being. This banyan tree is commitment; resolve to give shade visible or invisible. Therefore trainee, officials, staffs or support staff get to deem each other, feel each other and then the yet to come separations make them flowing or welling tears. After all everyone is human being – no discrimination.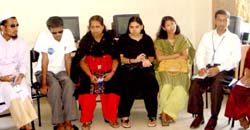 TPD stands for Trainee Professional with Disability. This program first of its kind in the Country has been initiated taking 20 graduate Disable person from various parts of the country. Of 20 disable trainees 12 are visually impaired, 7 are physically disabled and 1 hearing Challenged among them. It's an intensive and full residence training implementing by (Young Power in Social Action)YPSA- and in aegis of Action Aid Bangladesh and HSBC.The dream initiative started on 15 th July. It's successfully comes true end .It is an extra ordinary initiative for PWD'S in Bangladesh . As a Coordinator I felt necessity of such kind of "Professional Development Training" for PWD's. I sincerely believed this initiative will be continued to make the PWD's as a human resource.
Anyway, let me now tell something about what I've learned from the four months training. First of all, trainees we got from this training is to restore their latent confident through motivation that they lost.
This renewed confidant, I think, will help them to do well.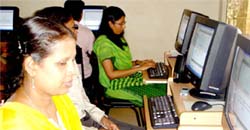 All trainees gone through ICT training. It's make them differently able. They are very confidant to access information communication technology. They have oriented on ICT for development issues.
Then there was a business "Communicative English" training course that has assisted them immensely to achieve proficiency in this language. I firmly believe that their English is steadily improving day by day after receiving this training and most of them told me, it was nearly impossible to them to be competent in alien language-English without such training.
After that, there comes the name of Management and Administration training-a five-day training course. Even though, I seem, the duration of this course was very short in compared to its vast subject matters or contents, all trainees got benefit from it learning
how to manage an organization, role of manager, managerial goal, problem solving, planning, difference between management and administration, group/ team work and the like.
Again, "Disability is not inability but different ability." All trainees learned and perceived this axiom-like statement on disability in this training. In addition, various disability issues they realized such as definition of disability, cause of disablement, social and medical model of disability, disability and equality, disability and development, disability rights, acts and rehabilitation etc. As a disable or differently able person, it's very imperative to be knowledgeable in the above-mentioned issues to serve or work with the disabled or excluded people in the society.
There was a course and workshop on HIV/AIDS-a contemporary and major concerned issue in the current world specifically for the people of the third world country as this menace is spreading fast in this part of the globe. I've acquired knowledge knowing different things of it such as World and Bangladesh situation of HIV/AIDS, vulnerability of it, cause of HIV/AIDS, preventive measures, treatment and rehabilitation etc. This course also had an informative visual presentation, which assisted all a lot to understand pros and cons clearly on this serious issue.
At present, Disaster and Emergency management is another key issue that cannot be circumvented. Comprehending this fact, all were given a three-day training on it. The course was contained cause of disaster, disaster cycle, disaster management and many
more. As the current world is often falling victim to various disasters such earthquake, Tsunami, flood, cyclone, drought and many other environmental disasters, this training has helped trainees to learn many critical issues on it and that they'll be able to implement skillfully if emergency situation arises.
Besides, they've been enlightened with Human Right (HR) policy training course, from which all known different things like appointment, benefits, separation and long term benefits, office rules, traveling policy, performance management process, grievance policy and code of conduct etc. I deem this course is helpful for anyone wants to work in any office.
As we all know, to ensure human right and realize legal demand advocacy is very essential. Thus, this major issue was included in this training program and Trainee vie enlightened with many tricks and techniques of Advocacy, which, I think, will help them tremendously to face real situation.
Independent living is another important issues of this training. Now they know how to live by themselves. Many guest speaker and visitor came through training period issues based lecture and experience share with our trainees.
One of our trainee is Hearing challenged so we have arranged lip reading and sign language training for him. Which improved his communication skill.Another training were Corporate Culture & Organizational Behavior organized and given idea of several issues on corporate culture.
Moreover, there were some exciting recreational and educational tours in some historical places such as Ethnological Museum, Foy's Lake, Shrine of Bayejid Bostami, Eco-park and Botanical Garden, Potenga Sea Beach, YPSA HRDC etc., which undoubtedly has helped the trainees broaden their horizon and explore new experience.
After completing this training fruitfully, all trainees will be ready for contemporary job market. The experience and competence they gained form this training will be helpful to do work with any organization. Already 14 of them working in different organization.