Service Innovation Fund arranged by Access to Information (A2I) Program under Prime Minister's Office awarded to YPSA for 'production of multimedia digital talking book'. Mr. Vashkar Bhattacharjee, Program Manager, YPSA received the award on behalf of YPSA in a ceremony held at Bangabandhu International Conference Center, Dhaka on 25 September 2013.
In the award ceremony, the chief guest, honorable speaker of the national parliament Dr Shirin Sharmin Chowdhury was present along with Dan W Mozena, The Ambassador of USA in Bangladesh and Pauline Thamesis, The Country Director of UNDP in Bangladesh as honorable special guests for the event. The event was chaired by Mr Fazle Kabir, the Finance Secretary and was attended by the Chief Innovation Officers (CIO) of different ministries, Innovation Officers (IO) of different directorates and District offices, development partners, NGOs, Journalists, Donor Organization and Private sector.
For the first time in the country, Service Innovation Fund is awarded to 5 government institutions, 1 private NGO and 1 private university. The monetary award for this year has been given to Department of Environment for 'Online based service enhancement', Soil Resource Development Institute for 'Online fertilizer recommendation: automation of data processing and data updating', Roads Division, Ministry of Communication for 'Development of multimodal transport web portal with mobile interactivity, 'Jiban Bima Corporation (JBC) for 'JBC's cell phone insurance claim payment service', Young Power Social Action (YPSA) for 'production of multimedia digital talking book',  Department of Livestock and Fisheries for 'Service delivery of Department of Livestock and Fisheries through SMS' and United International University for 'Development of a bangla optical character recognizer (OCR)'.
Honorable speaker of the national parliament Dr Shirin Sharmin Chowdhury, has handed over the cheque of awarded sum to the winners as the chief guest of the ceremony.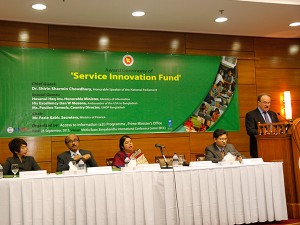 The Service Innovation Fund (SIF) was launched with an aim to create easier process of accessing and availing public service and to promote innovation within public & private institution and individuals in order to increase quality of government services. Another objective of SIF was to start up a number of prevailing small and medium initiatives on its merit of practical innovation in service. It is notable that Access to Information Programme (a2i) identifies innovation and helps executing those e-services that have reduced time, cost and hassle of the service seeker than before. And increased the quality of services in different levels.  This fund has been formed by the joint collaboration of UNDP, USAID and Bangladesh Government and is being managed by the a2i, a project of Prime Minister's Office in Bangladesh.  After the launch of SIF, a call for innovative proposal was circulated nation wide on June, 2013 among public & private organizations, researchers, development workers and students.  In response to the call, 554 proposals were received which were evaluated focusing underserved population with emphasis on the specific categories.
YPSA established the Information, Communication and Technology Resource Centre on Disability (IRCD) in 2005. The mission of the Centre is to ensure the best use of Information Communication Technology (ICT) for people with a disability, promoting their abilities. YPSA IRCD has practical experience in harnessing technologies to enable visually impaired people. 3 of the 4 full time staff are people with vision impairment.
Information Communication Technology (ICT) opens many doors for people with a disability and people of low literacy. The Centre offers digital technologies for the visually impaired, other people with disabilities, people of low literacy and Indigenous communities with no script; this makes information and knowledge accessible for them and in turn enhances their technical skills.
OneWorld Foundation India, in collaboration with the World Bank Institute conducted research on ICT Facilitated A2I Innovations with the aim of advancing access to information for enhanced transparency and accountability towards the improvement of democratic practices and public service delivery. Five innovations from India and two from Bangladesh were identified for research and case-study documentation. One of the innovations is YPSA's DAISY FOR ALL project.
YPSA received National Digital Innovation Award 2010 for DAISY (Digital Accessible Information System) for all in Social Inclusion and participation categories. The program was organized by D.Net in association with Ministry of Science and ICT, Government of Peoples' Republic of Bangladesh at National Museum on 9th August 2010.
YPSA DAISY for All in Bangladesh received a special mention award under e-inclusion category from the Manthan Award South Asia 2011.
YPSA has recently won the prestigious Competition named 'Youth Solutions! Technology for Skills and Employment', 2013, organized by The World Bank, Microsoft Sri Lanka and Sarvodaya-Fusion. As a consequence, YPSA is going to implement the proposed project titled "Empowering Youth with Disabilities through market driven ICT skills" in association with The World Bank, Microsoft Sri Lanka and Sarvodaya-Fusion which aimed at supporting the smooth transition to work of people with disabilities through the use of ICT training, internships on ICT, relevant job search support and producing Digital Accessible Information System (DAISY) products.