Training workshop on "Inclusive Publishing" was conducted during 15 to 17 September 2014 at the BASIS Auditorium, Dhaka. This program was conducted by the DAISY Consortium with support from WIPO and Accessible Books Consortium. The partner organizations from Bangladesh were Access to Information program, Prime Minister Office (A2I), Government of Bangladesh, Bangladesh Association of Software and Information Services (BASIS) and YPSA. Education Minister Nurul Islam Nahid handover the certificates to the trainees in the closing ceremony at the Prime Minister's Office on 18 September.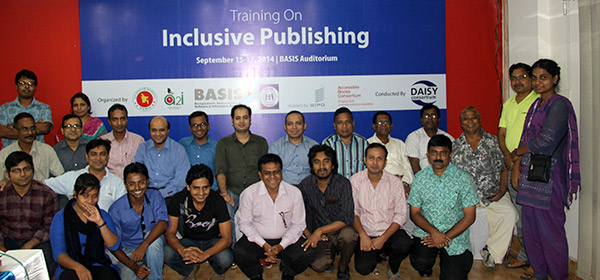 A total of 18 participants consisting of 8 representatives from commercial publishers, 6 from Governmental publishers, 4 representatives from NGO and organizations of people with disability participated in this three day intensive hands on training program. 2 observers from other commercial publishers also were present during the program. Mr. Prashant Ranjan Verma and Mr. Amit Verma from DASY consortium, India facilitated the training program.
The objective of this training program was to make the publishers aware of the lack of reading material in accessible format for persons with print impairments which include people with blindness, low vision, dyslexia, certain physical disabilities and the illiterate/low literate. The participants learnt how they can adopt inclusive publishing by making eBooks which are for everyone including people with disabilities. World over the publishing industry is in a transition stage where more and more publishers are coming out with eBook versions of their publications. If publishers take care of the accessibility requirements then all eBooks will be born accessible and there will be no need for further adaption for people with print disabilities. This can dramatically increase the availability of reading material for people with print disabilities.
The training program ended with a certificate distribution and a workshop titled 'Textbooks for visually impaired students"" at the office of Prime Minister of Bangladesh where the honorable Education Minister Nurul Islam Nahid was present as the chief guest. Social Welfare Secretary Nasima Begum, chairman of National curriculum and Textbooks Board Prof Md Abul Qashem Mia and senior officials of different organizations concerned, among others, addressed the workshop.
Mr. Vashkar Bhattacharjee,  Program manager of YPSA presented an accessible DAISY book (E-book) as well as he showed how to convert a document into Braille in the program.
Mr. Prashant Ranjan Verma, Consultant, Tech Support & Software Testing, DAISY Consortium presented digital accessible information system for the visually impaired and people with print disabilities in the program.