For  the first time in Bangladesh, YPSA with the collaboration of World Intellectual Properties Organization [WIPO], Accessible Book Consortium, Digital Accessible Information System [DAISY] Consortium and Australian Aid  distributed 4th generation Smart Android phones among the students with disabilities of colleges and universities.
Blind and visually impaired would be able to operate  this 4th generation phones like other people in both English and Bangla languages using e-Speak software and can access to all types of information utilizing Talking books, browsing internet, Skype, social medias, and other different software.
Total 35 smart phones have been Handover to 20 individual students with visual disability and 20 institutions including school for the blind. YPSA's staffs who are person with visual disability successfully using of Android phone and conducting training for others.
This opportunity will bring the dramatic change to access in Information and reading materials for students with visual disability and keep impact in the life of the people with visually challenged in Bangladesh.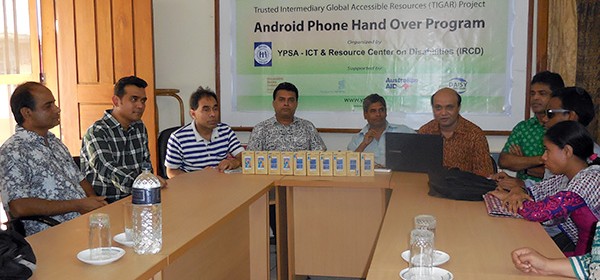 This ceremony was held at the YPSA head office Chittagong on May 4, 2015.  Mr. Md. Arifur Rahman, Chief Executive, YPSA, Mr. Vashkar Bhattacharjee, Program Manager, ICT and Resource Center on Disabilities [IRCD] and other senior officials of YPSA were present in the program.