Mr.Vashkar Bhattacharjee , Chief Facilitator of  Federation of DPOs Sitakund, Head of  YPSA ICT and Resource Centre on Disabilities IRCD ,Country Representative of GAATES and National Consultant ( Web Accessibility) at A2i Program of the Prime Minister's Office of Bangladesh given presentation on Accessible DAISY standard Learning materials for the people with Disabilities at the ZERO Project Conference 2016 , Vienna , Austria.
Innovative models and practices that create accessible learning materials are presented at the conference, like alternative textbooks in various formats such as Braille , DAISY Multi Media Books , Accessible e-book etc. developed in very different countries. Bangladesh has created a sustainable model by producing all the text books grade 1- grade 10 in accessible formats with the collaboration of  Access to Information (A2i) Program of the Prime Minister's Office, Ministry of Education and Ministry of Social Welfare of the Bangladesh.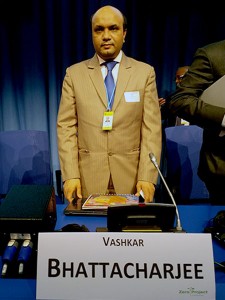 YPSA along with Federation of DPOs Sitakund with the technical support of WIPO, Accessible Book Consortium, DAISY Consortium , GAATES and partnership with Disability Rights Fund (DRF) has run advocacy for ensure the production and distribution of accessible books in Bangladesh .
Session Chair was : Mr. Gopal MITRA, United Nations Children's Fund (UNICEF), United States of America . Others speakers are Mr.Klaus HOECKNER, Hilfsgemeinschaft from Austria , Mr. Ugo FALACE, Centro Leonardo Education from Italy , Mr. Alberto ARGUELHES and Ms.Claudia WERNECK, WVA Editoria from Brazil , Mr. Birendra RAJ POKHAREL, Action on Disability Rights and Development (ADRAD) from  Nepal , Mr. Christopher  M. LEE, AMAC from USA .