YPSA was selected as one of Innovative Practices by the Zero Project's selection committee of renowned disability and accessibility experts. Exemplary in the areas of innovation, impact, chances of long term growth and success, and scalability, Accessible Learning Materials for students with visual impairments is outstanding in providing a practical solution to improve accessibility for persons with disabilities. Award Certificate was handed  over to YPSA Team (Mr.Vashkar Bhattacharjee , Head of  YPSA ICT and Resource Centre on Disabilities IRCD, Country Representative of GAATES and National Consultant (Web Accessibility) at A2i Program of the Prime Minister's Office of Bangladesh and Md.Arifur Rahman, Chief Executive of  YPSA) at the award ceremony  of the  Zero Project Conference 2016.
The Zero Project Conference 2016 is taking place from 10th  to 12th February at the United Nations, Vienna, Austria focusing on "Inclusive Education and Information and Communication Technology". 500 leading experts, inspiring and engaged education stakeholders, opinion leaders and decision makers with and without disabilities are participating, presenting and discussing Innovative Practices and Policies.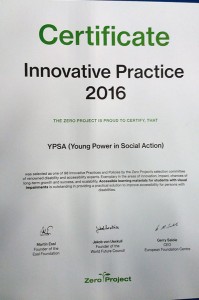 YPSA's Innovation and Production of accessible DAISY standard learning materials since 2005 has been selected as an Innovative Practice of the Zero Project Conference 2016 . YPSA has been produced 1000+ accessible reading materials in DIASY standard including all text books of the grade 1 to grade 10 , Number of Higher secondary and University level text books, Laws, Awareness materials such as  Disaster Management, Climate Change, Tobacco Control, HIV/AIDS, Inclusive Financing , Health etc. This DAISY initiative has been awarded by Service Innovation fund of Access to Information (A2i) Program of the Prime Minister's Office of the Bangladesh and technically supported by the WIPO, Accessible Book Consortium, DAISY Consortium and  GAATES . Since inception of  promotion of the DAISY standard in Bangladesh YPSA and DPOs Federation of  Sitakund along with the Disability Rights Fund(DRF) actively run the production, distribution and advocacy campaign .
YPSA has been invited  to present this outstanding solution to promote the rights of persons with disabilities and improve their daily life . The aim of the conference is both, to advance and help in the implementation of the right to inclusive education, and also support the most innovative information and communication technologies and Policies. In the heart of the Conference is, selected Innovative Practices and Policies.
The Zero Project Conference 2016 was constitute an excellent opportunity for all participants to share and discuss best practices, lessons learnt, ways to scale up and how to innovate in education. It is, furthermore, a major networking event that brings together the most committed policy makers, academics, UN officials, representatives of DPOs, CSOs, NGOs, foundations, social entrepreneurs, development partners and other experts from around the globe. Find all current information, including the full list of awardees, presenters, chairs and experts, on website http://zeroproject.org/conference-2016.