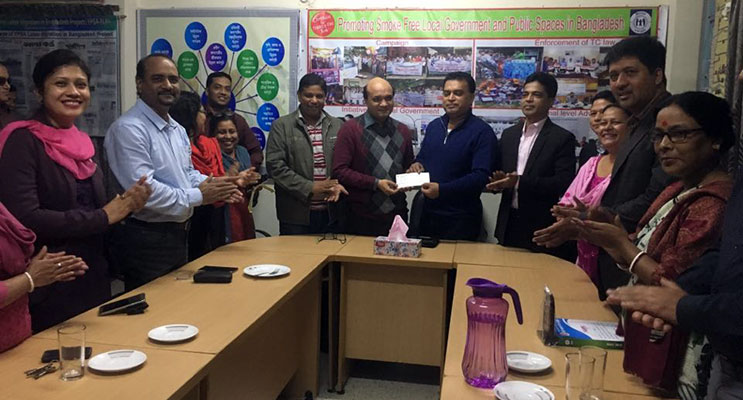 Last Thursday evening, on an auspicious ceremony, Vashkar Bhattacharjee officially handed over a cheque of 1,500,000 BDT to YPSA chief executive Md. Arifur Rahman. It was the monetary portion of the UNESCO Prize that he received in 2018 for his contribution towards the Digital Empowerment of Persons with Disabilities that took place on 3rd December 2018 at UNESCO headquarters in Paris, France.
This award money will be used for YPSA-IRCD (ICT and Resource Center for Persons with disabilities) which is a dedicated wing of YPSA for bring about a positive change in the lives of the Persons with Disabilities in Bangladesh by innovating accessible books and technologies.
It is mentionable that Vashkar is the 1st Bangladeshi who has received UNESCO/Emir Jaber al Ahmad al Jaber al Sabah prize for the Digital Empowerment of Persons with Disabilities.
Chief Executive of YPSA Md Arifur Rahman congratulates Vashkar Bhattacharjee for his outstanding contribution. In his speech, he admires Vashkar on behalf of YPSA for his commitment and dedication to the organization.
Disability rights advocate Vashkar Bhattacharjee of YPSA from Bangladesh gets UNESCO award
Media Coverage:
https://www.dhakatribune.com/achievement/2018/11/30/bangladeshi-activist-gets-unesco-award
https://www.thedailystar.net/city/news/bangladeshi-disabilities-activist-get-unesco-award-1667488
https://www.youtube.com/watch?v=mM4Z6_d52ho