A five-day entrepreneurship training workshop for women with disabilities on EDBM (Entrepreneurship Development and Business Management) was launched by YPSA on 20th June 2021 at Bir Muktijoddha AKM Mafizur Rahman hall (YPSA-HRDC) in Sitakund by strictly following the health and hygiene measures set for COVID-19 pandemic by WHO and Bangladesh government.
30 women with disabilities from Chattogram City Corporation, Sitakund and Mirashsharai were selected for the training through an intensive selection process. The training was formally launched by YPSAs disability focal and program manager Mr Vashkar Bhattacharjee.
In his speech, Mr Vaskar said, "Women with disabilities are frequently neglected during many mainstream initiatives undertaken by many governmental and non-governmental organizations and departments. However, since its inception, YPSA has been trying to promote inclusion in society and by including persons with disabilities especially women in almost all of its initiatives, YPSA is now been able to brand disability inclusion as an organizational practice. This training is another step in our journey towards disability inclusion".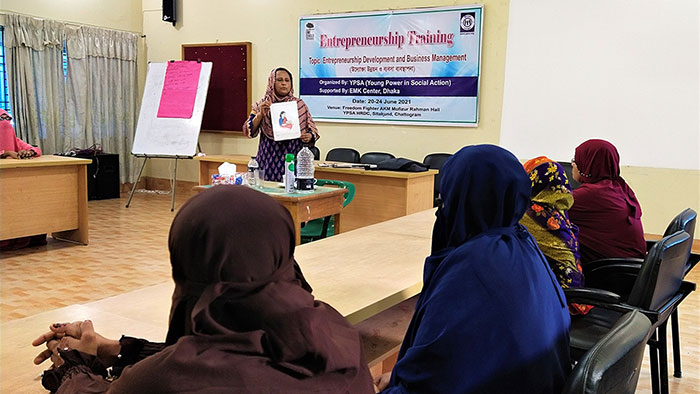 This training is the 1st segment of a 3 part training session (EDBM, Agribusiness, and Handicraft) organized under the project "Promoting decent employment and SRHR for COVID-19 affected women with disabilities" supported by the EMK Center, Dhaka. The purpose of this training session and the entire project is to increase the social dignity of COVID-19 affected women with disabilities by giving them a solid chance to prove their potential and worth in front of their family and society both at the personal level and professional level. The entire training session will be supervised by YPSA program manager Mr Newaz Mahmud and YPSA's senior trainer Farah Amina Begum.