On November 16, 2021 an isolation room was inaugurated in Nasirabad Colony Government School. Also a discussion meeting on the use and maintenance of isolation room was held as part of the program. The meeting was chaired by Headmistress Farhana Nazneen and conducted by Ataul Hakim, Project Officer, YPSA, Prayash II Project. The chief guest at the meeting was Mr. Morshed Alam, Councilor of Ward 8 Shulokbohor Ward and Abdul Hamid, Education Officer, Panchlaish Police Station. Also school management committee president Bahauddin Latif, school management committee members Omar Farooq, Papia Barua and other officials of Prayash II project were present.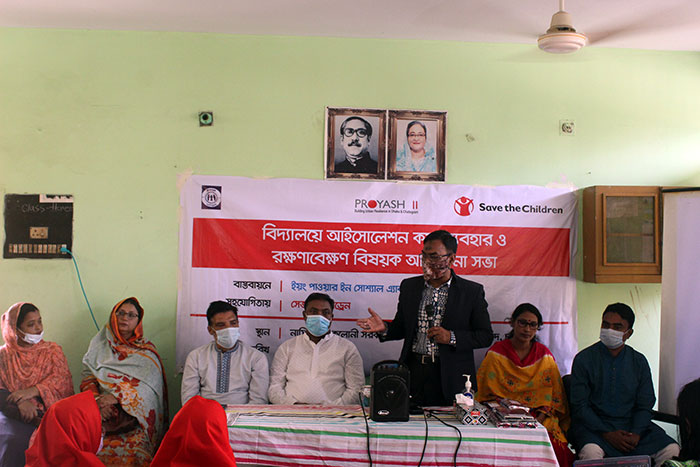 The isolation room was inaugurated by Panchlaish Thana Education Officer Abdul Hamid. This time they visited inside the isolation room and later participated in the discussion meeting. Mr. Morshed Alam, Councilor of Ward 8 said, "The isolation room has been set up for the purpose of providing first aid to any sick student of the school. The government has directed to set up isolation rooms in each school in preparation for the reopening of schools in response to the COVID-19 Pandemic. In this context, isolation room was inaugurated at Nasirabad Colony Government Primary School today by the initiative of YPSA. I urge everyone not to overdo it, we will be fully aware and conduct school activities; at the same time, we will use and maintain the isolation room properly."
Panchlaish Thana Education Officer Abdul Hamid said, "regarding school reopening during COVID 19 pandemic Government has ordered to establish hand wash corner and isolation room in every school. Our government has limitation to establish these in every school, whereas YPSA has initiated and follow Government order regarding hand wash corner and isolation center establishment. We thank from the heart for the initiative they have taken and its my pleasure to see the students' enthusiasm for today's event."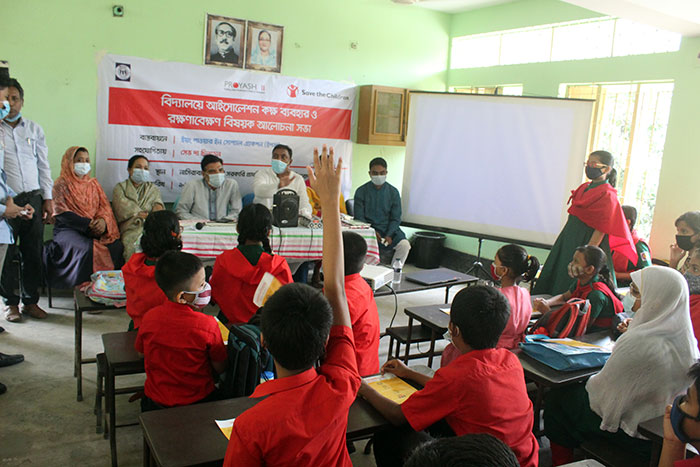 At the end of the discussion a quiz program on DRR held with students of different classes and students who gave the correct answer recieved the prize. Also all the present student have received two books named "Stories of COVID 19" which is published with child and youth's story on their experience during the pandemic, and another book named "COVID-19 Diary" written with dos and donts of children during the pandemic.
Ms Sanzida Akter, Project Coordinator of Proyash II expressed her gratitude to school management committee for the cooperation regarding hand wash corner and isolation center establishment in their school. She also added that "We want our children to receive education in clean, green and safe school. Therefore, we conduct tree plantation, session on DRR, establish hand wash corner and isolation center in this school. We hope School Management Committee will take care of these and guide student councils to perform their duties as a student to their school."