YPSA organized a quarterly progress workshop on Plastic Waste Management project with the Chattogram City Corporation Conservancy Department. Chief Conservancy Officer, Deputy Chief Conservancy Officer and supervisor of conservancy department attended the workshop at the conference room of Chattogram City Corporation on 24 August 2022.
Mr. Muhammad Abul Hashem, Chief Conservancy Officer and Senior Assistant Secretary of the Government, Chattogram City Corporation was present as chief guest workshop.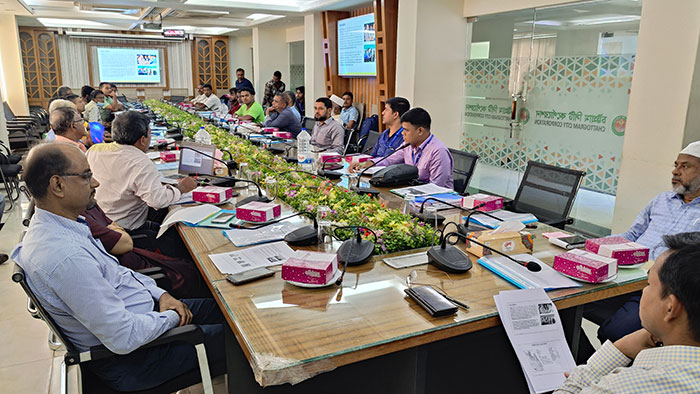 YPSA's Deputy Director and Head of KM4D, Muhammad Shahjahan delivered the welcome speech under the direction of YPSA Waste Management Project. Project Focal Person Muhammad Abdus Sabur highlighted the context of YPSA and the project, various activities and quarterly achievements in the workshop.
In the speech of the chief guest, Chief Conservancy Officer and Senior Assistant Secretary, Mr. Muhammad Abul Hashem said that one of the problems of Chattogram city is mismanagement of plastic-polythene waste. Karnaphuli river, the life line of the city, is affected by plastic-polyethylene pollution. There is no substitute for awareness at the household level to improve plastic-polyethylene waste management. Youth volunteers should also be engaged at this stage. The City Corporation is ready to provide all kinds of assistance to collect and recycle unsuitable polythene. Moreover, we have to bring all plastics – polythene – under the 3R model. Also, we have to think about alternatives to plastic-polythene.
Participating in the open discussion, Conservancy Officer, Muhammad Abu Taher Siddique said waste pickers collect waste from various hazardous sources. In this case, if they are provided with necessary safety materials and equipment, the collection of plastic polythene from various sources will increase. Waste management cannot be promoted if waste pickers are at risk of health.
Mr. Morshedul Alam Chowdhury, Deputy Chief Conservancy Officer of Chittogram City Corporation, Nashim Banu, Director of Social Development Department of YPSA, presented as special guests in the workshop. Program Manager of the Project, Syed Assraf Ullah facilitated the workshop. Project Monitoring and Evaluation Officer Muhammad Abu Taher, Business Development Officer Apurba Deb, Project Officer Muhammad Joynal Abedin, Muhammad Shakhawat Hossain, Muhammad Shahinur Rahman and Muhammad Mojibul Haque also participated in the workshop.
from last June 2022, YPSA Plastic Waste Management Project has taken a rule to improve and functionalize plastic waste management activities in 16 wards and later in 41 wards in CCC, In collaboration with Unilever Bangladesh Limited.
June 22 to August 22, YPSA's 69 small scrap shops/CSOs and 561 waste pickers collected 620.620 tons plastic polythene in 16 wards of Chittagong City Corporation area and sent it to recyclers for recycle.
As a result of the said activity, if the collection of plastic-polythene increases, the drains, sewers, canals and the port city will be free from plastic polythene pollution. Besides, these Plastic Polythene collection will play an important role in supporting & functionalizing Chittagong City Corporation activities.